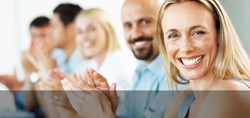 Having dental issues and missing teeth can severely impact quality of life.
STATEN ISLAND, NY (PRWEB) September 10, 2013
As a provider of cutting-edge oral surgery procedures including the groundbreaking All-On-4™ dental implants and wisdom teeth removal, Paramount Oral Surgery also prides itself on patient education. The practice has recently announced its complimentary dental implant seminar for current or prospective patients. The seminar is taught by the office's leading oral surgeons.
Paramount Oral Surgery's dental implant seminar will explain and demonstrate the advances in technology which have made the dental implant process a quick procedure. Dental implant surgery can now be completed in one visit, allowing patients to leave the office with a brand new set of teeth in one day.
Paramount Oral Surgery is offering the seminar to discuss procedure costs, financing options, and to provide patients the opportunity to have their questions answered directly by the physicians who perform the procedures.
"Having dental issues and missing teeth can severely impact quality of life," notes Dr. Daniel Sullivan, an award-winning oral surgeon at the facility. "We hope that by holding these monthly seminars we can reach more patients and educate them about the latest advances in dental implants. We provide options that are not only affordable and convenient, but most importantly, offer our patients a chance to return to everyday activities free of pain."
To contact Paramount Oral Surgery regarding the complimentary dental seminar, you can reach the office by calling 718-494-2053 or by emailing frontdesk(at)paramountoms(dot)com. To view their website, visit http://www.paramountoralsurgery.com.