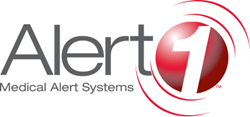 After all these years, the core value of Alert1 remains: to help retirees lead independent lives in their own homes.
Williamsport, PA (PRWEB) September 04, 2013
Alert1 celebrates its 25th anniversary this year.
The story began in 1988 in Williamsport, Pennsylvania. Founder Paul Graafsma was concerned that his grandmother was living alone. He couldn't bear the thought of a terrible tragedy or life-threatening scenario happening to his grandmother with no family nearby to help. Graafsma thought about the loving care that his grandmother had given him as he grew up. He wanted to give back, so he researched the market of personal medical alert systems. Unfortunately, none were affordably priced. Graafsma realized then the incredible need to better care for retirees, especially widows and widowers living independently in his entire community. He decided to take matters into his own hands. The result was AlertOne.
A quarter century later, the small, family-owned AlertOne had become Alert1, a nationwide business with customers from coast to coast, and even Alaska. In 2008, Alert1 was acquired by ResponseLINK, and Graafsma stayed on as a consultant to the company. "It's pretty exciting that something I built outlived me as the CEO," he reminisced. "The name has lived on, and customers continue to get serviced. It kept growing and keeps growing and I love it."
After all these years, the core value of Alert1 remains: to help retirees lead independent lives in their own homes. "I am very customer driven," Graafsma proudly explained. "I didn't want to build a machine or entity like other corporations did. It is important to always focus on the customer." Today, Alert1 is accredited by the Better Business Bureau and boasts the highest possible A+ rating.
Beyond serving retirees, Alert1 has supported many charitable organizations throughout the Williamsport community including the Second Harvest Food Bank, American Diabetes Association, and Breast Cancer Research. "This is a fantastic accomplishment," Graafsma declared, "I am so excited that we are able to give back."
"I can't wait to see what contributions this company will make in the next twenty-five years!"
About Alert1
Founded in 1988, Alert1 is committed to helping retirees live independently in their own homes by providing affordable and reliable medical alert systems. The Alert1 service provides emergency response at the push of a button – 24 hours a day. Alert1 is a national provider of medical alarms and offers several different pricing plans to best serve the needs of its customers. Alert1 is a trusted partner to healthcare professionals and provides a dedicated support team for senior caregivers. More information on Alert1 can be found by visiting http://www.alert1.com or by calling 1-866-581-4540. Healthcare professionals can find special offers and resources at http://www.alert1partner.com.