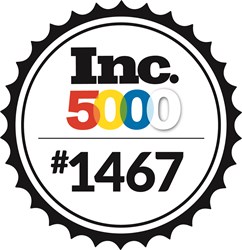 Achieving this distinction is a reflection of our clients and outstanding team members and partners who work hard to deliver exceptional customer service and provide efficient engagement strategies. It is an honor to be one of the few companies representi
Lewiston, ME (PRWEB) September 04, 2013
Argo Marketing Group, a leading customer engagement center, earned a 1467th ranking and is one of 13 companies based in Maine to make the Inc. 500l5000 annual list of fastest growing private companies.
With a three-year revenue growth of 272 percent from 2010-2013, Argo Marketing Group's success is built on their innovative strategies and partnerships for industry leading customer engagement. Their dedication to the local community by renovating notable buildings and creating local jobs has complemented their success and achievement in earning the 1467th ranking on the Inc. 5000 list.
Argo Marketing Group is one of 13 companies in Maine to have earned this exclusive ranking of the fastest growing private companies in America in 2013. Their company profile can be viewed at http://www.inc.com/profile/argo-marketing-group.
"We are excited to be recognized on the Inc. 5000 list where we are ranked with Fortune 500 companies," said Argo Marketing Group's Chief Executive Officer, Jason Levesque. "Achieving this distinction is a reflection of our clients and outstanding team members and partners who work hard to deliver exceptional customer service and provide efficient engagement strategies. It is an honor to be one of the few companies representing Maine's turnaround during a weary economy towards financial growth and success."
Argo Marketing Group specializes in customer engagement by helping their clients retain positive communication and a positive reputation among with their consumers in the direct response and charity industries.
Each year since 1982, the Inc. 500|5000 is ranked according to percentage revenue growth rate. The companies must be U.S. based, privately held, independent and for-profit in order to qualify for the listing. Other notable companies that hold this prestigious pedigree include Microsoft, Timberland, Vizio, Intuit, Jamba Juice, Oracle and other well-known capitals.
About Argo Marketing Group
Argo Marketing Group works with their client's reputation in mind. Ranked in the 2013 Inc. 5000 list, the world leading customer engagement center, represents their client's brand by providing concierge-level customer service to consumers worldwide. As the first point of contact to their client's consumers, Argo Marketing Group creates experiences that consumers will remember. Argo Marketing Group is widely recognized for providing world-class customer engagement with innovative reporting and cutting-edge technology. For more information, please visit http://www.argomarketinggroup.com
About Inc.
Founded in 1979 and acquired in 2005 by Mansueto Ventures, Inc. is the only major brand dedicated exclusively to owners and managers of growing private companies, with the aim to deliver real solutions for today's innovative company builders. Total monthly audience reach for the brand has grown significantly from 2,000,000 in 2010 to over 6,000,000 today.