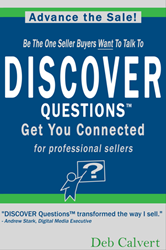 'This is a book that needs not just to be read, but followed. Highly recommend.' -Stephen Schiffman, author of bestselling books "Cold Calling Techniques (That Really Work!)" and "Closing Techniques (That Really Work!)"
San Jose, CA (PRWEB) September 15, 2013
Highly endorsed by some of the biggest names in sales, this book teaches sales professionals why and how to ask questions on sales calls. Deb Calvert, author and president of People First Productivity Solutions, has conducted years of field research using actual sales call examples to illustrate how connecting with your customers using DISCOVER Questions™ advances you to a successful close.
Top sales professionals like Lisa Earle McLeod, sales leadership expert and best-selling author of "Selling with Noble Purpose," comments, "If you're looking to drive more sales revenue and to do it in a way that makes you proud, be sure to read DISCOVER Questions Get You Connected. The sales approach and techniques in this book will help you to genuinely connect with customers by asking strategic, thought-provoking and high-value questions."
Bestselling author and sales guru Jill Konrath states, "Questions matter a lot. And as Deb Calvert's research shows, top sellers use a broader range of questions to create new opportunities and build strong relationships. Honestly, this book makes SPIN Selling look like a primer."
Order your copy today on amazon.com.