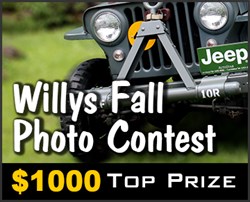 Mr. Meditz's personal interest lies in the support of a community that continues to grow annually and internationally.
Aiken, SC (PRWEB) September 01, 2013
Kaiser Willys has officially opened its annual jeep photo contest giving enthusiasts the chance to win bucks for willys jeep restoration parts and projects, and has expanded this year's contest to include a 12-month photo calendar, adding 12 additional winners to the lineup.
The grand prizewinner of this contest will receive a $1,000 gift certificate for willys jeep parts from KaiserWillys.com, and will be featured on the front cover of the 2014 catalog, while the second prizewinner will receive a $500 gift certificate for parts and placement on the back of the catalog. For the first time, 12 additional entrants will also be chosen to receive $100 gift certificates and a featured spot in the first-ever Kaiser Willys jeep calendar.
Mike Meditz, Kaiser Willys owner, shared his excitement about this year's contest, and hopes that it will give even more enthusiasts the encouragement they need to start working on their garaged projects, or to bring their willys jeep "works in progress" back to life. Mike, who is currently undergoing a restoration of his own Willys Jeep CJ-2A, is well aware of the commitment, hard work and sheer love that it takes to get these icons back on the road -- While his company is doing its part to supply quality willys jeep parts for restoration, Mr. Meditz's personal interest lies in the support of a community that continues to grow annually and internationally. This contest is one small way in which he would like to give back to that community, and to give willys jeep owners across the world the chance to connect and share their love and enthusiasm for the hobby.
Suggested themes for photos are: Jeeps and Dogs, Pinup Photography, Jeeps in the Wild, Jeeps with Class, Showstopper Restorations, Best Dressed, Jeep Underdogs, Most Unique… get creative! Include a story with your submission and it may be featured inside the new 2014 Catalog or in the Willys Jeep Life section of the Kaiser Willys Blog. The deadline for photo contest entries is October 15th, 2013. To enter, submit your willys jeep photos on the Kaiser Willys Blog.
A family owned business for over 15 years, Kaiser Willys is dedicated to providing quality and reasonably priced vintage Willys Jeep parts and accessories for all 1941 to 1971 Willys and Jeep vehicles. We offer parts and accessories for all Willys Jeep vehicles, including the war-time production models and post-war civilian ones, including the Jeep MB, GPW, M38, M38A1 and others. Parts for civilian models, such as the CJ-2A, CJ-3A, CJ-3B, CJ-5, CJ-6, Willys Station Wagon, Willys Truck and Jeepster, are also readily available.