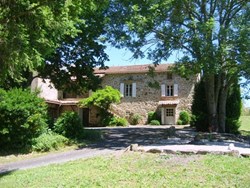 With French mortgages at an all time low, and more realistic pricing, buying conditions are very favourable
(PRWEB UK) 3 September 2013
France remains the number one choice for British people buying property abroad, according to the recent overseas property hotspots report collated by an overseas mortgage specialist. It is hard not to see why the British appetite for French living is still going strong - with the great climate, the wonderful food and wine and relaxed pace of life that it has to offer.
The French Property Exhibition on 20th – 22nd September at the Olympia 2 Conference Centre is a one-stop shop for anyone considering buying a property in France. It is the perfect place to go for information and inspiration, and visitors will be surprised at how affordable it can be.
The event is organised by Archant Lifestyle, leading publisher of magazines about France – French Property News, Living France and France Magazine and the website http://www.francepropertyshop.com. They have a wealth of experience in the property sector, having run property exhibitions for over 20 years in the UK.
The free seminar programme runs all day giving visitors invaluable information on all aspects of the buying process; from pensions and investment to tax and mortgages. Visitors have the chance to browse from an extensive range of properties for sale throughout all regions of France and meet property experts, as well as legal and financial advisers.
Anyone who's ever dreamt of a French pied-à-terre will want to make the most of this opportunity to meet face-to-face with the experts. Charles Smallwood, who runs Agence L'Union estate agency in the Midi-Pyrénées, will be exhibiting at the show. "It is a buyer's market in France right now, with prices still low. Come and discuss your plans with us, whatever your budget."
The French property market has stood up well to the global recession, and while average prices are starting to creep up again, there are still bargains galore across the Channel from just £100k. "With French mortgages at an all time low, and more realistic pricing, buying conditions are very favourable," comments Karen Tait, Editor of French Property News.
If you want to find out more about the current bargains available in France and how to make your dream a reality, visiting the French property Exhibition in Olympia is a must. For more information and to register for free tickets, visit http://www.fpeolympia.com