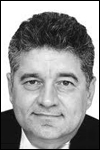 ARLINGTON, VA (PRWEB) September 04, 2013
Tony Rutigliano has been named Chief Commercial Officer at Healthy Companies International, a leadership research, consulting, and executive coaching organization headquartered in Arlington, VA. Rutigliano will guide Healthy Companies' growth strategy, with responsibility for marketing, sales and product development.
Rutigliano is co-author of two best-selling business books, Strengths-Based Selling (Gallup Press, 2011) and Discover Your Sales Strengths (Time-Warner Books, 2003). Immediately prior to joining Healthy Companies, he was Senior Vice President of Caliper, overseeing a team of Organizational Development Consultants as well as the sales function. At Gallup Consulting, Rutigliano led the Salesforce-Effectiveness Practice. Prior to that, he served as Chief Learning Officer and Vice President of Talent Management at ADP.
"Tony's wealth of experience and deep expertise will be tremendously valuable to our growing company as well as to the healthy, high-performing companies we serve," said Bob Rosen, founder and CEO of Healthy Companies, and author of the new book Grounded: How Leaders Stay Rooted in an Uncertain World (Jossey Bass, Fall 2013).
Rutigliano adds, "I am thrilled to be joining Healthy Companies at this critical time in its growth and development, and look forward to working with our dedicated team as we deliver innovative products, content and unique experiences to our community of clients and partners."
Rutigliano holds a B.A. from the City University of New York. He graduated Summa Cum Laude, Phi Beta Kappa.
He lives in Randolph, New Jersey.
About Healthy Companies
Healthy Companies International (http://www.healthycompanies.com) was founded in 1988 by CEO advisor, organizational psychologist, and bestselling author Bob Rosen. Its mission is to transform the world's organizations – one leader at a time. The basis for the firm's work is The Healthy Leader Model, a deeply personal and holistic model which holds that "Who leaders are" drives "What leaders do" – how they build their teams, organizations, and world-class outcomes. Healthy Companies works with a wide range of Global 2000 corporations, government and non-governmental organizations, and selected associations. Clients include New York Life, PricewaterhouseCoopers, Engility Corporation, Ralph Lauren, and MedStar Health.
Media contact: David Knauss | 703.879.7870 | david(dot)knauss(at)healthycompanies(dot)com