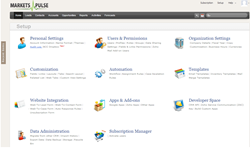 Its user-friendly and easy accessibility of information can help minimize operational costs," says Ayala Barbie, Product Manager at MarketsPulse
Toronto (PRWEB) September 19, 2013
MarketsPulse (marketspulse.com), a global binary options platform provider, has recently launched their second version of the CRM they designed specifically for Binary Options Brokers.
In addition to the previous CRM version's advantages, the new version now tracks a trader's demo-money and real-money account activity and finances in real-time. This addition provides a more comprehensive method of tracking demo account users allowing for a more effective conversion process. Prior to initiating contact with a trader, the sales and retention teams will be able to familiarize themselves with the trader by knowing their last sign-in and sign-out, demo activity, bonuses, credits, deposits, withdrawals, and more.
Furthermore, the new version also offers Enterprise brokers the ability to access and manage leads from external sources through an open API. An Enterprise client with a variety of lead sources will have the flexibility to conveniently transfer or seamlessly combine leads to one CRM using the API.
Ayala Barbie, Product Manager at MarketsPulse states, "The new additions to the CRM version 2 enables our clients to work within an efficient environment. Its user-friendly and easy accessibility of information can help minimize operational costs."
The MarketsPulse CRM which is included with the Venture Solution and available to Enterprise clients was created to efficiently work with Binary Options operations by enabling easy management of data flow. The system's automated updating process and powerful tools provide sales and retention strategists the capability to execute a business plan with ease. Furthermore, the system has the flexibility to expand its capabilities by using apps and add-ons provided by Zoho and third parties, such as external email clients, direct phone connectivity, access to the system using a mobile app and more.
To see the advantages of the MarketsPulse CRM v2 contact Tal, tal[at]marketspulse.com, to schedule a full demonstration.
About MarketsPulse
MarketsPulse provides enterprise-class Binary Options platforms that combine sophisticated engineering with a deep understanding of global financial markets. MarketsPulse offers technological solutions for Binary Options operations which include a stand-alone solution and a fully integrated solution that is completely installed on-site, providing confidentiality of data and a customizable trading experience. Working with leading companies throughout the world, our technology is operational in many regulated markets providing MarketsPulse with the experience to meet regulatory requirements. For more information, please visit http://www.marketspulse.com/.