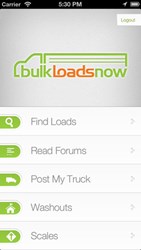 However, the tight grain supply is somewhat of a double edged sword as certain areas are lacking backhaul opportunities, keeping some trucks waiting in the yard for a much anticipated grain harvest.
Nixa, MO (PRWEB) September 03, 2013
Despite a delay in fall grain harvest, bulk truck freight demand continues to increase creating a tightness in trucks across the bulk truck freight industry. BulkLoadsNow.com freight-matching service saw a 25% increase in posted loads this week compared to one year ago.
"Shipper and broker activity is at an all time high as trucking companies become busy," said Jared Flinn, Operating Partner at BulkLoadsNow.com. "We're seeing fall milo harvest start in the southern states as well as wheat harvest finishing up in the northern Midwest and Northwest."
BulkLoadsNow exceeded 28,000 loads posted during the third week of August with the majority of postings in the Midwest. States with the strongest need for trucks are Texas, Oklahoma and Kansas. Hopper Bottom and End Dump trailer loads have the largest number of posting with Walking Floor and Live Floor trailer loads next.
"The trucking industry seems to be a good place to be right now! The demand for trucks is very high as the tight grain supply is helping the movement of feed ingredient by-products," Shipper member Chad Villwok, owner/partner at Tallgrass Commodities states. "However, the tight grain supply is somewhat of a double edged sword as certain areas are lacking backhaul opportunities, keeping some trucks waiting in the yard for a much anticipated grain harvest."
Blane Neufeld, a Colorado Springs, CO agent for UTi Transport Solutions, agrees there has been a recent spike in available bulk loads. "It seems as if though conditions have become more favorable at the moment for the movement of all kinds of bulk loads in the areas I work with." Neufeld, who moves loads throughout the Midwest and Great Plains, continues to say that, "it appears the recent rainy weather and now suddenly a drier forecast have grains moving out of storage ahead of the fall harvest, the dry spell has also seems to have dry fertilizer movement on the rise, and finally the warm weather continues to foster the movement of aggregates for highway and building projects. Combine that with the start of fall harvest in the southern plains, and the demand for bulk trucks has increased and capacity looks to have tightened for the time being." He adds that, "I respect a carrier's freedom to go where the best available loads are at any given time. In order to build carrier loyalty UTi strives to combine quality freight offerings with carrier incentives such as predictable payment terms, low-fee fuel advances, and flexible quick pay options. Our carrier base is our most valuable asset and we could not meet our customer's needs without it."
Launched in 2011, BulkLoadsNow.com is one of the newest load boards out there but is growing rapidly due to its advanced technologies and premium features. To help carriers find freight BulkLoadsNow.com provides load listings, a shipper/broker database, and truck posting. BulkLoadsNow also released iPhone and Android apps to conveniently allow carriers to search for loads from their mobile device.
Shipper members looking for trucks can post loads to the load board, but can also proactively seek truckers using the LEADS feature which gives a list of past carriers interested in the load posted.
"We're excited for our members experiencing a good start to the harvest season. We're excited for the growth of Bulk Loads Now. And we're eager to continue to provide solutions that help all our members," explained Matt Fredin, BulkLoadsNow.com Operating Partner.
About BulkLoadsNow.com
BulkLoadsNow.com is an online community of professionals in North American's bulk freight industry. Our shipper members are transportation logistics managers of grain, fertilizer, aggregates, feed ingredients and all agriculture commodities. Our carrier members pull hopper bottoms, walking floors, end dump, belt, pneumatic and liquid tankers. We provide to our members the industry's most innovative bulk freight solutions including an enhanced load board, database of all carriers in North America, instant communication tools, industry forums and news updates, and much more.