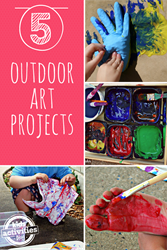 Kids love art and the outdoors. Why not combine both?
Dallas, Texas (PRWEB) September 06, 2013
Fall time is the perfect time to spend outside. Over 5 fun outdoor art projects and a great nature walk idea have been published on Kids Activities Blog. Kids love to create and learn. Doing this outside is such an extra treat for them.
How about letting them have a blast with kick box painting. It is a fun twist on marble painting where a piece of paper, some old golf balls, and paint are sealed inside a plastic container. Let the kids shake and toss the plastic container and admire the art at the end.
Another fun outdoor project includes painting with BBQ brushes or even potato smashers. Slap art lets kids have fun with loaded plastic gloves which are dipped in paint and slapped onto a piece of paper.
The gallery of outdoor art ideas is endless. Another fun way to have fun and teach the kids about conservation is by going on an exploratory nature walk. Set up an outdoor area and hide some objects that do not belong in nature.
Hand the kids a list of these hidden items. Let them find all items that do not belong on the set trail. Talk to them about recycling and how trash can endanger the animals and ultimately nature.
For detailed instructions and to get additional fun and educational outdoor ideas, check out Kids Activities Blog this week. Come get inspired to let the kids have a blast outdoors.
About Kids Activities Blog
Kids Activities Blog is a website created by two moms (who collectively have 9 children), Rachel Miller and Holly Homer from June Cleaver Nirvana. It is their daily goal to inspire parents and teachers to play with kids. This interactive website publishes simple things to do with kids twice a day. Kids Activities Blog is a great tool for moms and teachers to find kid-friendly activities that create memories and sneak learning into the fun.