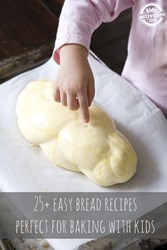 Homemade bread not only makes the house smell great, it elevates the dinner.
Dallas, Texas (PRWEB) September 08, 2013
Kids love to bake. Seasoned Moms have published over 25 tips and recipes about making bread with kids and a super easy pumpkin seed recipe that will delight the whole family. It is healthy, too.
Making homemade bread with kids not only makes the house smell good, it elevates the dinner. A bread machine makes bread making a lot easier with kids. Choose among the many recipes and ingredients listed on Kids Activities Blog. Let the kids measure the ingredients and put them inside the bread machine. Set the machine on manual and let the machine mix the ingredients. Let the dough rise until it is needed for dinner.
Another great bread idea is the lazy women bread recipe. The dough can be made in advance and is kept in a container inside the fridge for days until needed. The friendship bread, a yeast experiment lesson with a bonus bread idea, a two ingredient bread recipe, and a soda bread recipe idea are featured on Kids Activities Blog. All recipes can make new family traditions where the kids are the chefs.
Fall time is the perfect time to visit the pumpkin patch. Let the kids pick out a pumpkin or two and turn them into a delicious and healthy snack. Cut the pumpkin in half and let the kids spoon out the pumpkin seeds. One can even sneak in a science lesson by observing the seeds with a magnifying glass.
Wash the seeds and let them dry on a piece of cloth. Spray olive oil on a baking pan. Put the seeds on the baking sheet in a single layer and spray them with olive oil. Sprinkle a bit of sea salt and a bit of brown sugar if desired. Bake them at 200 degrees for five minutes. Then flip the seeds so they do not stick and bake them for another 5 minutes. Ready is the delicious snack.
For detailed instructions and to get additional easy kid recipe ideas, check out Kids Activities Blog this week. Come get inspired to teach the kids simple recipes this fall.
About Kids Activities Blog
Kids Activities Blog is a website created by two moms (who collectively have 9 children), Rachel Miller and Holly Homer from June Cleaver Nirvana. It is their daily goal to inspire parents and teachers to play with kids. This interactive website publishes simple things to do with kids twice a day. Kids Activities Blog is a great tool for moms and teachers to find kid-friendly activities that create memories and sneak learning into the fun.