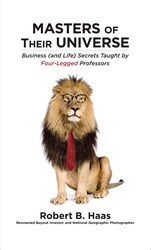 "The culmination of the provocative and searing comparisons between the human and other animals … is nothing short of symphonic. A great and unique work!"

— Martha Minow, Dean of Harvard Law School

DALLAS, Tex. (PRWEB) September 03, 2013
Imagine the sheer joy of wandering through the grasslands of Africa in search of priceless secrets to success in business (and life itself). "Masters of Their Universe" takes its readers on a fascinating journey in which the four-legged denizens of the wild emerge as unlikely professors in the art of survival in business.
"Masters of Their Universe" bears little resemblance to any business manual or life-skills book available today. Instead, it is an easy-on-the-eyes montage of scenes from the boardroom—where fortunes are at stake—to the wilds of Africa, where life and death hang in the balance. Author Robert B. Haas has brilliantly woven together his decades-long experience as a legendary investor with his parallel career as a renowned National Geographic photographer. What emerges is a revealing portrait of how lessons gleaned from observing the behavior of four-legged creatures offer an invaluable guide to overcoming challenges in business and life itself.
Twelve separate chapters—each introduced by a simple, one-sentence "secret"—are devoted to core business and life skills, such as astute decision making, choosing the right partner, allocating precious resources, tipping the balance in negotiations, and knowing the difference between the spoils of victory and being spoiled by victory. Each secret is supported by gripping anecdotes from the author's photography days and his business career. A few samples of the book's secrets include:
— On decision making: When in doubt, make the more correctable mistake
— On managing time: Time is your most precious resource and your most dreaded foe
— On recognizing your limits: Know the limits of your own territory—perhaps the world is flat after all
Author Haas commented: "The language of the secrets in this book is certainly cast in plain English, but the lessons to be garnered in the noisy canyons of Wall Street are mirrored by the behavior silently at work in the African grasslands. There are secrets to surviving in the wild that parallel the secrets to thriving in the slightly less brutish world of commerce. Sheer size and strength alone could not possibly be the code to survival or else we would still be bumping into saber-toothed tigers and woolly mammoths on our way to the grocery store."
In the end, the reader is highly entertained and left with a fistful of gems of advice and a newfound respect for the teachings of four-legged professors who constantly meet the challenges of survival and emerge as masters of their universe.
"Masters of Their Universe: Business (and Life) Secrets Taught By Four-Legged Professors" will be available everywhere books are sold this September.
###
Praise for "Masters of Their Universe"
"Wisdom blends so seamlessly with a captivating story."
— Oris R. Stuart III, CEO and Managing Partner of Global Novations, a Korn/Ferry International Company
"The culmination of the provocative and searing comparisons between the human and other animals … is nothing short of symphonic. A great and unique work!"
— Martha Minow, Dean of Harvard Law School
"A highly readable, fascinating book."
— Roger Enrico, Retired Chairman and CEO of PepsiCo and Former Executive Chairman of DreamWorks Animation SKG
About the Author
"Masters of Their Universe" is the eleventh book by Robert B. Haas. The author has scaled the heights of both private equity and aerial photography in two parallel careers. Haas's investment firms compiled a highly successful record over three decades, including such noteworthy acquisitions as Dr Pepper, Seven-Up, and Sybron International. As an internationally acclaimed photographer with National Geographic, Haas completed a series of aerial photography books, including two of the most widely-distributed single photographer works in National Geographic's history. His photographs have appeared in major exhibits throughout the world, and his work has been featured on CBS News Sunday Morning, ABC News Nature's Edge, and CNN, and in National Geographic magazine, Time magazine, ForbesLife, and numerous other publications.
In 2011, Haas released his tenth book, "Miracle Man: 100 Days with Oliver," published by Bascom Hill. Miracle Man is the true account of his remarkably close relationship with the eldest of his clan of six dogs, who barely survives a paralyzing fall and then leads his master on an odyssey of recovery and medical miracles.