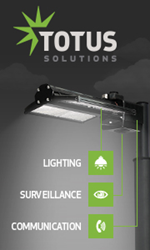 "TOTUS is structured to help channel partners like SW24 in creating new business opportunities with our innovative approach to deploy outdoor lighting and security." John Hanby, SVP Worldwide Sales TOTUS Solutions
Austin, TX (PRWEB) September 03, 2013
TOTUS Solutions, Inc. the leading provider of the World's first outdoor LED lighting based security platforms today announced a new channel partnership with SecureWatch24, one of the leading security companies and enterprise level integrators in the country. SW24 is based in NYC and maintains the largest privately installed network of video surveillance in the United States with 22,000 cameras connected to their Network Operations Center.
TOTUS Security Platforms™ incorporate optimized LED lighting, megapixel IP surveillance, multi-day media storage, and secure wireless communications in a single solution to help prevent and deter crime instead of just recording it while it occurs.
"TOTUS is structured to help channel partners like SW24 in creating new business opportunities with our innovative approach to deploy outdoor lighting and security. SW24 merges traditional law enforcement techniques with advanced security technologies and our purpose built security platforms will be an ideal match to complement their philosophy, " said John Hanby, SVP Worldwide Sales TOTUS Solutions.
"We currently protect over 2,000 client locations that include a broad range of facilities and applications in higher education, commercial/residential real estate, medical buildings and hotel/hospitality venues," said Jay Stuck, EVP Sales and CMO of SW24.
"Inadequate lighting is a common problem with most of the outdoor security applications and TOTUS Security Platforms' ability to offer an energy saving LED lighting and IP surveillance combined with the proactive Active Deterrence™ capabilities such as light events, sounds, stored video, emails, or phone calls in a single solution will extend our commitment to help deny danger," said Jay Stuck, EVP Sales and CMO of SW24.
SW24 will be demonstrating the award winning TOTUS Surveillance Platforms, the most advanced group of TOTUS Security Platforms at the upcoming ASIS International trade show in Chicago, IL on September 24-26 at booth # 2239.
About TOTUS Solutions:
TOTUS Solutions is the leading provider of outdoor lighting-based security platforms. TOTUS Security Platforms incorporate optimized LED lighting, megapixel IP surveillance, multi-day media storage, and secure wireless communications in a single solution to create unparalleled Active Deterrence™. Energy saving TOTUS Security Platforms™ are designed to operate over conventional IP networks and leverage existing IT infrastructure such as servers, storage systems, computers, wiring and software. They can replace legacy systems or be integrated into existing ones, extending the eyes and ears of security personnel to outdoors while increasing the value of current surveillance investments.
TOTUS Security Platforms are lauded as Best Outdoor Perimeter Protection by SIA's NPS, Security's Best by ASIS Accolades and received the Top Innovative Technology Honor from Security Sales and Integration and a Platinum Government Security Award for "Best Outdoor Lighting-Based Security Platform" by Security Products magazine.
For more information: http://www.totus-solutions.com, info(at)totus-solutions(dot)com, 877-261-3432.
About SecureWatch24 (SW24):
SW24 is a recognized leader in technology- based security services. Offering a holistic security solution to its customers, SW24 specializes in property protection and management utilizing 24/7 enterprise class integrated video surveillance, video streaming and analytics, wireless monitoring, license plate recognition, access management and home intrusion prevention and detection systems. SW24 also offers its clients a wide range of additional services, including armed and unarmed guards, criminal and civil investigations, business continuity consulting and criminal event management. . Headquartered in midtown Manhattan, SW24's team of professionals includes decorated veterans of the New York City Police and Fire Departments. The company SW24 also maintains a state-of-art national monitoring and operations facility called the Fusion Centre.
For more information: SW24 1 Penn Plaza Suite 4000 NY, NY 10119. 212 729-5400/