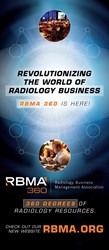 Fairfax, VA (PRWEB) September 09, 2013
The Radiology Business Management Association (RBMA), the leading organization for radiology business management professionals in any radiology setting, has just launched a new brand identity and interactive dynamic website. With a new look and strategic direction RBMA is propelling forward at the forefront of the radiology industry.
RBMA.org has been redesigned to focus on RBMA's strengths – programs, tools and news. We have developed communities and collected specific resources for our members - leaders, billing managers, coders, marketers and industry related vendors - that can be found in one place.
New features include:

Simplified organizational structure – easier navigation.
Look and feel – an updated look reflects RBMA's cutting edge presence in the industry.
Front and center "need to know" information – posted on an automatic home page slide show.
Custom content – new "I am a…" features related resources for various member communities.
Features at your fingertips – breaking news and announcements, recent RBMA tweets and featured jobs through the RBMA Career Center, all on the new homepage! Just one click will take you to the Forums, calendar, chapters, Gateway, Shop RBMA and so much more.
Just as our website will continue to change and grow so will RBMA as we move into the future as a stronger, informed and trusted association.
The Radiology Business Management Association (RBMA) is a national not-for-profit association providing members with applied business information and intelligence applicable in any radiology setting. The RBMA has approximately 2,300 members involved in various management capacities in private practices, academic radiology groups, imaging centers and hospitals. The RBMA continues to be recognized as the leader for radiology-specific educational programs, products and services, publications and data.