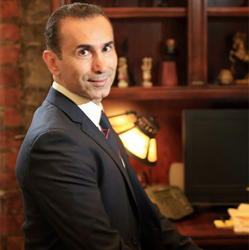 Rodney Mesriani, Esq. - Mesriani Law Group
Best Personal Injury Law Firm in California
Los Angeles, CA (PRWEB) September 04, 2013
Mesriani Law Group, a distinguished Los Angeles Personal Injury Law Firm headed by Rodney Mesriani, Esq., expresses relief on the recent news where a man was hit by a high-speed train, but miraculously lived to tell his story. ABC's Good Morning America reporter Alexis Shaw posted news on Yahoo! News on August 19, 2013 about Darryle See, a 22 year old resident of Michigan City, Indiana, who was said to have been jogging alongside the train tracks near his home with his headphones on, listening to music when he was hit by a train on Friday morning. For more information: Man Hit by High-Speed Train, Then Sits Up
Top California personal injury law firm headed by Rodney Mesriani, Esq., reminds everybody to be more careful especially those who live near train tracks as train accidents almost always result in wrongful death or serious personal injury, based on Mr. Mesriani's two decades of experience in providing the best results in personal injury claims, whether in settlements or lawsuits. "Being involved in a train accident is devastating not only to the victim but to their family members as well. Aside from the high costs of medical treatments for surgeries due to multiple spinal cord injury, fractures and brain injury, victims of train accidents mostly end up in wrongful death, which entails funeral costs, not to mention the unquantifiable emotional distress, pain and suffering experienced by those loved ones left grieving by the train victims' untimely deaths," adds Mr. Mesriani.
Mr. Mesriani wants to highlight the fact that, train accidents can happen to anybody, especially to those who believe that it cannot happen to them. According to Federal Railroad Administration Office (FRA) of Safety Analysis, from January to May 2013 alone, there had already been a total of 41 train accidents in the state of California.
As one of the leading Los Angeles personal injury lawyers, Rodney Mesriani, Esq. Has successfully obtained millions in top settlement awards to date for handling countless personal injury law suits, including train accidents, car accidents, bicycle and bike accidents, motorcycle accidents, pedestrian accidents, bus accidents, truck accidents and even boating accidents and plane or aviation accidents.
Mr. Mesriani, head of leading personal injury law firm in Los Angeles, California, stresses that in any traffic accident, the victims definitely have a right to claim damages against the negligent driver or operator of the car, motorcycle, bus, truck or train involved in the accident. Aside from property damage or destruction of the personal injury victim's vehicle, the victims are also entitled to be reimbursed for all actual medical costs, future medical care, loss of earnings and pain and suffering. All the more, for those whose loved ones were killed in any type of traffic accident or premises liability accident, they have a right to pursue wrongful death claims against the negligent party and recover additional claims for emotional distress, loss of consortium, support and companionship, among other damages.
Mesriani Law Group's top personal injury law firm in Los Angeles, California has been representing all victims of traffic accidents, premises accidents and other personal injury accidents for two decades now with the commitment to provide top notch legal service at practically no cost to the personal injury victims because they accept personal injury claims and lawsuits on a contingency basis.
About Mesriani Law Group, P.C.
Mesriani Law Group, is a Los Angeles, California based personal injury law firm founded by Rodney Mesriani, Esq., which specializes in handling all types of injury related accidents such as vehicle accident, truck and bus accident, motorcycle accident, bike accident, train accident, slip and fall accident, construction injury accidents, premise liability, dog bite attacks, brain injury, spine injury, burn injury, pool drowning accident, product liability, wrongful death claim and even boating accident and aviation accident claims. Mesriani Law Group's top personal injury law firm in California offers aggressive legal representation against the party at fault regardless of the complexity of the cases or the actual value of the personal injury claims.
The law firm's best Los Angeles personal injury lawyers are based in 5723 Melrose Ave., Suite 200, Los Angeles, CA 90038. To learn more about the firm, call 1.866.998.2545 for a free case evaluation or email them or take advantage of their free online case submission.