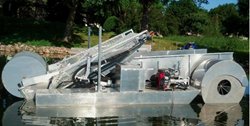 "The Eco-Harvester is the first innovation into the aquatics industry in quite a long time". - Bruce Wahlstrom, The Weeders Digest
New Hope, MN (PRWEB) September 11, 2013
Lake Weeders Digest has announced a unique new, eco-friendly, non-herbicide solution for cleaning lakes and ponds. Bruce Wahlstrom, the owner of Lake Weeders Digest, distributes the Eco-Harvester worldwide. It provides an affordable and environmentally friendly solution for Lake Associations, Lakeshore Management, Landscaping Contractors,Government Agencies,and Municipalities that are desperate for new technology.
The Eco-Harvester is the only harvester in the industry that can pull aquatic weeds by the roots, cut weeds at the stem, and skim the water's surface for floating weed mats and algae. It can accomplish all these functions by utilizing the patented Reverse Conveyor Technology. The harvester is effective for uprooting Milfoil, Hydrilla, Water Celery, and Coontail.
This machine can skim floating debris and algae blooms at an impressive 5 mph. The Eco-Harvester has a top-end speed of 8 mph. It can operate in water as shallow as 10", thus enabling it to maneuver in and around docks, piers, boat lifts, channels, canals, and shorelines. It holds a generous 4 cubic yards of aquatic plants and the Reverse Conveyor Technology allows the operator effortlessly unload in minutes.
Another feature of the harvester is that it's easy to use and requires minimal technical training to operate. It's the most manageable and least invasive method for removing lake weeds when compared to chemicals, dredging, and dewatering. In addition, it only requires one person to unload, operate, and trailer. In essence, it's a one-person operation from start to finish.
Finally, the Eco-Harvester is less than one-third the price of traditional weed harvesters and should revolutionize the way lake shore managers view harvesting in the future.
For more information contact The Lake Weeders Digest at 877-224-4899. Visit http://www.EcoHarvester.net for photos and video demonstrations of the Eco-Harvester in action.