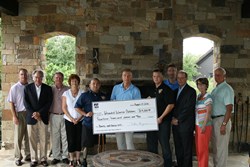 Fredericksburg, Texas (PRWEB) September 02, 2013
The Admiral Nimitz Foundation held its fourth annual Nimitz Golf Classic on June 14th this year. Drawing golfers from all over the country to play in what has become a unique golfing experience.
Each year the foundation chooses another non-profit which helps our military service members and donates a portion of the proceeds raised through the tournament to that organization. This year the Admiral Nimitz Foundation selected Wounded Warrior Outdoors Inc. to be the recipient of $14,000. The money will go toward funding hunting, fishing, and camping trips for qualified Wounded Warriors.
Wounded Warrior Outdoors, Inc. is a non-profit organization exclusively founded to provide wounded servicemen and women with therapeutic outdoor adventures across North America. WWO gives deserving Active Duty Warriors in transition the opportunity of a lifetime in the wilderness location of their choice. We call them "Adventures Enabled." Their adventure could take them bear hunting in the mountains of British Columbia, Canada, on alligator hunts or fishing excursions in the Gulf Coast region of Florida or deer hunting in Texas. During their experience, they will participate in therapeutic activities such as backpacking, trail expeditions and numerous social interactions.
72 Degrees, Dr. and Mrs. Carson Dickie, Hill Country Titles, American Airlines, Crossroads Saloon & Steakhouse, IBERIABANK, American Band of Texas, Diageo Liquor, James Avery Craftsman, August E's, Mr. and Mrs. H. Anson Cone, King Wood Fine Cabinetry, Sharon and Mark Beall, Duecker Construction, Westside & Northside, Becker Vineyards, Edward Jones Investments, Lexus of Houston, Bill Dunn Construction, Inc., Fischer & Wieser Specialty Foods, Inc., Mercedes Benz of Boerne, Boot Ranch, Freedom Group, Chef Jordan Muraglia, Callaway Golf, Fund Raising Strategies, Bruce Nichols, J.E. Cauthen & Sons, Ltd., Garrison Brothers Distillery, Pedernales Creative Arts, Champion Plumbing, Hargrove, Inc., Alliance, Jerry Conatser, Hill Country Memorial, Kathy and John Pipkin, Carol Ann Shepherd, Showcase Antiques, Sloan Wealth Management, Tanglewood Family Office, Vaudeville, Whistle Pik, Wildseed Farms.
The Admiral Nimitz Foundation supports, operates, and manages the National Museum of the Pacific War which is a Texas Historical Commission property.