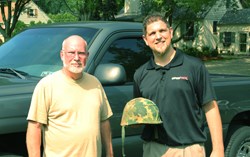 I've never won anything but $30 in the lottery. I was going to do the repairs myself because I can't afford to send it out, but there's no way it would come out like it would at a body shop. -- Jerry McMullin, retired Marine veteran
Trevose, PA (PRWEB) September 10, 2013
Jerry McMullin, a 63-year-old Marine veteran from Bensalem, PA, seriously wounded in the Vietnam War was selected as the fourth winner of a free auto body repair job in CollisionMax's "Metal of Honor Project," the company announced today.
CollisionMax of Oxford Valley, PA, will repair Mr. McMullin's 2002 Chevrolet Silverado pickup truck, which is rusting from inside both rear wheel wells. "This is really fantastic," said Mr. McMullin, who is retired, on being notified of his selection. "I've never won anything but $30 in the lottery. I was going to do the repairs myself because I can't afford to send it out, but there's no way it would come out like it would at a body shop."
Mr. McMullin grew up in Levittown, PA and graduated from Pennsbury High School at the height of the Vietnam War in June 1968 . Shortly after, he enlisted in the Marines "to fight for my country and save the world from Communism," he said. A little more than a year later, he was hit by a mortar shell in mountainous country in South Vietnam while on a three-day patrol just south of the Demilitarized Zone.
"I was sitting cross-legged, drinking coffee when the shell hit," he said. "Like they say, I never heard it, but a piece of shrapnel went through my coffee cup into my hand, and another went through one side of my face and out the other." Flipped into the air and knocked several feet from where he was sitting, although dazed and bleeding heavily, he was able to get up and walk to a medic, who thought he was going to die. "My jaw was broken, my tongue was severed and swelled up and I was having so much trouble breathing the medic told another Marine I was turning blue," he related.
McMullin was quickly airlifted and treated, first at a field hospital, then on a hospital ship off the coast of Vietnam, then at a military hospital in Japan and finally at the Philadelphia Naval Hospital. Surprisingly, after multiple operations over the course of a year, McMullin was returned to active duty at Camp LeJeune, North Carolina, where he was trained for amphibious landings until he was discharged in 1972.
After working at a number hourly jobs, McMullin was hired at the former Bensalem Water and Sewer Authority, from which he retired in 2000 when it was sold to a private company. He lives in Bensalem with his wife, Christine, who is a secretary, and their 27-year-old son, who suffers from Down's Syndrome. "I use the truck to go the gas station and take my son back and forth to work," he said. "It's got low mileage, and now it's going to look practically brand new."
Through its Metal of Honor project, CollisonMax is giving auto body repairs to 11 US military veterans, one per month for each of its locations in the Delaware Valley. The company chooses the winner from nominations it receives from the public on the project's web site, http://www.metalofhonorproject.com. The site is now accepting nominations for its Blackwood, NJ, shop.
"The Metal of Honor Project is our way of saying thank you and honoring the men and women of our armed forces who put their lives on the line for all of us," said Jim Tornetta, CollisionMax and president and CEO.
In New Jersey, CollisionMax operates shops in Blackwood, Cinnaminson, Glassboro, Marlton, Pennsauken, Sicklerville and Westmont. In Pennsylvania, it has repair centers in Oxford Valley, Warminster and two in Northeast Philadelphia (both on West Grant Avenue). For information about CollisionMax, please visit http://www.collisionmax.com.