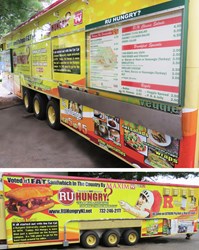 Freshness and quality are the focus.
East Brunswick, NJ (PRWEB) September 04, 2013
Cook Douglass Student Center is now home to the world recognized RU Hungry? grease truck. Since 1992, the 33-ft trailer has been parked at Lot 8 on College Avenue at Rutgers, The State University of New Jersey. Now, the city's famous grease truck will be located at 11 Nichol Avenue, right by the Cook Douglas Student Center.
Ayman Elnaggar, owner of RU Hungry? agrees that this new location will be a great opportunity. "I strongly believe students will come, the good food will attract people to follow wherever I go," he said in a recent interview at Vending Trucks, Inc.
RU Hungry? gained national recognition, thanks to participation on various shows on the Travel Channel and Food Network as well as being named "The #1 Sandwich in the Country" by Maxim magazine. This comes as no surprise as the food truck provides a great meal at a great value, serving not only college students but university personnel, business professionals, area residents, and anyone else that makes their way over as well.
While on a hiatus from the old location, RU Hungry? took the opportunity to make some modifications and upgrades to the existing trailer. Ayman Elnaggar worked closely with custom design and fabrication company Vending Trucks, Inc. to fully renovate the interior of his trailer. The first modification made was the installation of an all new diamond plated floor, a custom design option Vending Trucks, Inc. offers. Also installed were many new innovative pieces of equipment, such as fryers, a grill, and an espresso and cappuccino machine. All this was done in an effort to streamline production, renovate, and enhance customer experience while continuing to provide the best service possible.
In an effort to encourage everyone to visit the new location, RU Hungry? will begin offering daily specials as well as coupons. The all new breakfast selections will include fresh bagels and omelets. Fresh coffees, cappuccino, and espresso will also be available all day. Every item will continue to be made-to-order and great quality is ensured. "Freshness and quality are the focus," Ayman Elnaggar explained. Also in the plan for the relocation, RU Hungry? will be offering a delivery service. Watch for our "Delivery Service Coming Soon" announcement.
Vending Trucks, Inc., a food truck fabrication company located in East Brunswick, NJ, specializes in custom designing food trucks and mobile kitchens. The company targets entrepreneurs and businesses seeking advertising or marketing needs with the use of a mobile food truck. Vending Trucks, Inc. offers custom design options like vinyl wrapping, fabricating, and endless equipment selections.