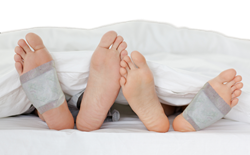 We are thrilled to offer 24/7 availability of all of our products through our eStore
San Diego, CA (PRWEB) September 03, 2013
Ramping up to take its detox pads to the next level, BodyPure - California's leading manufacturer of detoxification foot pads (http://www.bodypure.com) - today announced the addition of availability of all of its detoxification products to any customer in the United Sates through BodyPure's eStore 7 days a week, 365 days a year with priority delivery - free-of-charge!
"We are thrilled to offer 24/7 availability of all of our products through our eStore," said Ari Vinograd, President and CEO of WiseChoice Health, Inc. (BodyPure). "This eStore gives a taste of all of our products in a one-stop place on our website. We're extremely delighted to let everyone know that now our revolutionary detoxification products are available to anyone on any day of the week with priority delivery right to their door step!", concluded Dr. Vinograd.
The Science behind BodyPure is more than revolutionary. When toxins are absorbed into the system, most become embedded in our tissues. As the BodyPure pads are placed on our skin, the natural herbs interact, and begin their work by emitting far infrared energy. The infrared rays not only enhance the cells functions directly, but also stimulate the Kidney 1 Meridians on the soles of the feet, creating a second front for detoxification. The Kidney 1 Meridian is used extensively by Acupuncturists and Acupressurists to also promote healing and relieve tension. In essence, the BodyPure pads gently stimulate this point for an 8 to 10 hour period.
In addition, the wood vinegar extract in the foot patches allows for a phenomenon known in Asia as the "minus ion effect". By creating an osmotic shift in the herb/skin interface it permits the transfer of toxins. This "minus ion effect" induced by the pads, accelerates the natural excretion process (through the pores), and allows the body to purge toxins at a faster rate.
Now all of these state-of-the art products, designed to dramatically improve health when placed on feet are available practically around-the-clock for anyone! Come check out http://www.bodypure.com for more information!
About BodyPure
BodyPure is dedicated to bringing you alternative health products that actually show results. Our company was founded by Dr. Daniel Vinograd, Albert Levine, Nora Vinograd, and Ari Vinograd. Dr. Daniel Vinograd, a Bio-Compatible & Holistic Dentist, Naturopathic Doctor and Holistic Healer, has been finding, testing and creating health products for more than 30 years.
Many years before the term 'Holistic Dentist' even existed, he was searching for ways to detoxify himself and his patients from the heavy metals involved in dentistry... a path that eventually lead to the creation of BodyPure.
Every item on Bodypure.com is one considered to be a standout in the natural products world, and personally used by Dr Vinograd!
Media Contacts:
3830 Valley Centre Dr.
San Diego, CA 92130
(310) 204-4484
ari(at)bodypure(dot)com