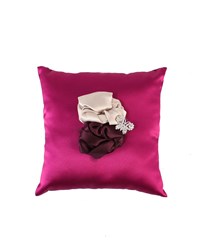 Carrying multiple new designs... the happy couple are sure to be captivated by their own Weddingstar ring bearer pillow.
Dunmore, Alberta (PRWEB) September 05, 2013
With over 30 years in the wedding business, Weddingstar Inc. has earned their reputation of being able to "Put the Wow in Weddings." With their nuptial expertise firmly established, Weddingstar continues to broaden the market and their own horizons with ever-expanding lines of wedding decorations, accessories and stationery. Constantly releasing imaginative designs and inspirations to suit any couple, Weddingstar is changing the market on what a wedding retailer should be. With today's weddings being highly focused on customization and designer flair, Weddingstar has become an imaginative creator of quality ring bearer pillows for every budget. And their innovative new releases for 2013 are of no exception. Carrying multiple new designs, color choices and customizations, the happy couple are sure to be captivated by their own Weddingstar ring bearer pillow.
Introducing a new way to shop their website in tandem with their new product releases, Weddingstar has made their designer ring bearer pillows even simpler to browse. With a single click of a button, brides and grooms alike can easily see a myriad of options for their wedding day or even see all of Weddingstar unique products organized by color in the new "Shop by Color" Section. With all of Weddingstar's new and classic designs displayed in a single spot, finding the perfect ring bearer pillow has never been simpler. What's more, Weddingstar has introduced a new way for couples to design their own custom ring bearer pillows. From their exclusive Color Personality collection to the Notable lines, brides and grooms can take the reigns as designer with multiple customization options that are sure to suit any weddings theme or colors.
Even if couple's only want to be able to choose from a few options, Weddingstar helps guide any shopper along a simpler design path with their ring bearer pillows that carry only one or two color options, as is often the case with their collaborative partner, Beverly Clark. In her new releases, couples can take an easier option with her timeless designs offered in only a select few colors. Or if theme is a bigger concern, Weddingstar has just the right designs to fit that too! From sea-faring ring pillows with starfish and shells to glamorous vintage chic notions full of lace, any couple's perfect ring bearer pillow is just waiting to be found. Not to mention that because Weddingstar has a product line of over 3,000 unique offerings, couples can easily find their other perfect accessories and stationery to match their tastes, theme and of course, new ring bearer pillow!
Weddingstar Inc. is one of the world's leading designers, manufacturers and retailers of wedding decorations and accessories. Dedicated to providing quality service to brides around the globe, Weddingstar ships to over 100 countries worldwide with distribution points in Europe, North America, Argentina, Australia and Russia. Featuring an ever-expanding selection of bridal accessories with over 3,000 different product offerings, Weddingstar is a one-stop destination for every wedding need. With 30 years of experience in the wedding industry and having received numerous business awards, Weddingstar has earned a reputation as the source for 'Putting the Wow into Weddings.' For more information please visit http://www.weddingstar.com.