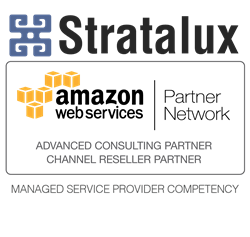 With the introduction of Logstash powered by Stratalux, we are taking centralized logging to the next level.
Los Angeles, CA (PRWEB) September 03, 2013
Stratalux, a leading provider of managed cloud services has released a Logstash based open-source IT log management solution for companies who want the benefits of a centralized logging solution without the enterprise software price. Logstash, an open-source alternative to more costly enterprise IT logging solutions, provides a centralized and scalable repository for all of your system and application logs, providing customers a unique and holistic view into their infrastructures. Stratalux's Logstash AWS Marketplace AMI has been configured with all the basic components necessary for a comprehensive working solution. Included in this AMI are the Logstash server, Kibana web interface, ElasticSearch storage and Redis data structure server. Simply launch Stratalux' Logstash AMI with the click of a few buttons and install and point your Logstash agents to this AMI to begin searching through your logs. Additionally the creation of customized dashboards will provide new insights into your infrastructure.
According to Stratalux CEO, Jeremy Przygode, "Centralized logs are a critical component of any IT organization. Tools like Logstash provide insights into system activity and help diagnose problems. This becomes even more significant for organizations that are required to comply with regulatory standards like HIPPA, SOX, PCI, or FINRA." In complex IT environments, searching across hundreds of logs can get both complicated and cost prohibitive. Centralized logging is an elegant solution because it aggregates the information in a single, centralized location." Przygode continues, "With the introduction of Logstash powered by Stratalux, we are taking centralized logging to the next level by applying our expertise in open-source software and Amazon Web Services that brings a comprehensive logging solution to companies that won't break their IT budgets."
Stratalux's Logstash solution on AWS Marketplace provides two support models, community and standard. With community support customers rely on the open-source community for support via IRC, and forums. With Stratalux's standard support, customers receive Managed Services support via email support during business hours. Additionally, expert professional services are available to architect and design solutions for larger deployments.
About Stratalux
Stratalux is the leader in building and managing cloud solutions for the enterprise. Focused on building highly trafficked and fully automated website infrastructures for companies on the Internet, Stratalux leverages decades of experience from the world of traditional IT while being recognized as a leader in migrating and managing websites built on public cloud resources. Stratalux partners with best of breed cloud solution providers including Amazon Web Services (AWS), OpsCode, and Rightscale, among others. Stratalux is a technology company, that has a singular focus on cloud technologies enabling its customers to focus on what's really important; their businesses. To learn more about Stratalux visit us at, http://www.stratalux.com.
Copyright (C) 2013 Stratalux. All rights reserved. Stratalux and the Stratalux logo are registered trademarks of Stratalux, Inc. and/or its affiliates in the U.S. and certain other countries. All other brands, names or trademarks mentioned may be trademarks of their respective owners.