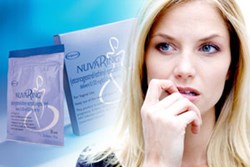 To discuss a potential NuvaRing lawsuit claim with one of the compassionate NuvaRing lawyers at Alonso Krangle LLP, please contact us at 1-800-403-6191 or visit our website, www.FightForVictims.com
New York, NY (PRWEB) September 03, 2013
Alonso Krangle's lawyers have filed a NuvaRing lawsuit due to a pulmonary embolism on behalf of a woman from Louisiana. This case (Case No. 2:13-cv-02933-SDW-MCA) was filed on May 13, 2013 in the U.S. District Court of New Jersey and specifically names the defendants to be Organon USA, Inc. and Merck & Co., Inc. According to the NuvaRing lawsuit complaint, the plaintiff's use of NuvaRing was directly responsible for her development of a pulmonary embolism.
Additionally, this case contends that Organon and the other defendants knew about but failed to warn the public regarding the fact that NuvaRing has been linked to a higher risk of blood clot-related complications than oral contraceptives. Specifically, this NuvaRing lawsuit claims that the defendants marketed NuvaRing as a safe and effective contraceptive without alerting women about the serious risks of developing blood clots, deep vein thrombosis and/or pulmonary embolism when using NuvaRing.
Alonso Krangle's experienced defective drug attorneys are dedicated to standing up for victims' rights and holding even the largest corporations accountable for their potentially dangerous medications. We offer free NuvaRing lawsuit evaluations to those who have sustained serious injuries, such as blood clots and pulmonary embolisms, that could be linked to the use of NuvaRing. To discuss a potential NuvaRing lawsuit claim with one of the compassionate NuvaRing lawyers at Alonso Krangle LLP, please contact us at 1-800-403-6191 or visit our website, FightForVictims.com.
Alleged Injuries in the NuvaRing Lawsuit
According to court documents, the plaintiff started using NuvaRing in July 2009. Within two years of using this contraception, the plaintiff reportedly began to experience chest pain and shortness of breath, which led her to seek medical care for an official diagnosis. After undergoing an x-ray, the plaintiff was told that she had pulmonary embolism and had developed multiple blood clots (emboli) in her lungs. Subsequently, she was hospitalized for one night and was placed on anticoagulation therapy, including Lovenox and Warfarin. While the plaintiff is currently still on this anticoagulation therapy, she has also had to undergo regular follow-up care to monitor her health.
Blood Clot Injuries Linked NuvaRing Use
Use of NuvaRing and the development of serious blood clot disorders like pulmonary embolism has been linked by many researchers within recent years. In fact, a study published in 2012 in the New England Journal of Medicine reported that vaginal rings like NuvaRing could increase women's risk of developing blood clots by nearly three times, when compared to the risk associated with older birth control pills.
[ http://www.nejm.org/doi/full/10.1056/NEJMoa1111840
Similarly, a study published in the May 2012 British Medical Journal reported that women's risk of developing blood clots increased by more than 6 times when using vaginal rings like NuvaRing, as opposed to birth control pills.
[ http://www.bmj.com/content/344/bmj.e2990#alternate
The alleged serious risks associated with NuvaRing use seem to be confirmed by data from the FDA's Adverse Events Reporting System (AERS), which has received more than 5,350 reports of serious adverse events related to NuvaRing use since the drug was first introduced in 1997 (though FDA approval was not granted until 2001). In fact, some of the most commonly reported adverse effects associated with NuvaRing use included more than 1,170 incidents of pulmonary embolism and more than 1,150 incidents of thrombosis and deep vein thrombosis. According to the FDA AERS, more than 30 percent of women who reported NuvaRing complications had to be hospitalized due to the severity of their injuries, and approximately 3 percent of NuvaRing complications resulted in death.
[ http://adverseevents.com/drugdetail.php?AEDrugID=4584&BrandName=NUVARING
About Alonso Krangle LLP And Filing A NuvaRing Blood Clot lawsuit
Andres Alonso and David Krangle, attorneys with almost 40 years of collective legal experience, have focused their law practice on handling significant personal injury cases, defective drug and medical device litigation, construction site accidents, nursing home abuse, medical negligence, qui tam/whistleblower actions and consumer fraud cases. Alonso Krangle LLP is headquartered in Long Island, New York, with offices in New York City, and New Jersey.
For more information about Alonso Krangle or to join the fight and be a part of our team, please contact us at 1-800-403-6191 or visit our website, FightForVictims.com.