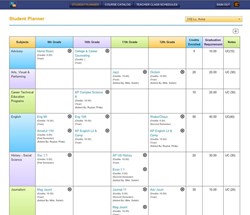 This system is a power tool for counselors, letting them identify and help those who need it most.
Palo Alto, CA (PRWEB) September 03, 2013
Huge school counselor workloads have left many 6th - 12th-graders without the guidance they need to complete high school on time and be ready for college or careers. The U.S. high school graduation rate may be at a 40-year high, but nearly 1 million students will fail to graduate this year, according to Education Week. They may become part of a permanent underclass in American society.
CollegeOnTrack has worked with schools for the past two years to deliver tools that support the education process for thousands of students. Its apps provide lesson plans, digital portfolios, student assessments, and college search. Now, the company is expanding its platform to help with counseling and administration.
The Course Catalog/Student Planner streamlines choosing classes to meet graduation requirements. It makes courses easy to find and schedule into multi-year plans that ensure students finish 12th grade with the units they need to graduate. This module can save hours of labor compared to using the paper or pdf catalogs most high schools offer now, which can run to 50 pages or more.
A new Grade Book eliminates duplicated effort and transcription errors in the grading process. Teachers see and grade all their assignments, tests, and quizzes. School and class grading standards are applied automatically, and the module calculates running GPA's for all students.
The Student Dashboard / RTI uses information from the Grade Book to show students' academic history, current performance, and trends. It automatically flags failing performance in any class. It allows educators, students, and parents to drill down to the individual assignment level to find the root of academic problems while there's still time to aid struggling students. It lets counselors instantly see which of their hundreds of students need help, and logs their interventions.
These new capabilities extend the CollegeOnTrack education planning platform, and make it a more effective tool for educators trying to keeps students in school and on track for graduation. No computer system can replace available and caring counselors, teachers, and parents. But V.P. of Marketing Phil Roybal explains, "This system is a power tool for counselors, letting them identify and help those who need it most." The result is more effective counseling with available resources, resulting in higher student performance.
CollegeOnTrack execs will be demonstrating the new apps in booth #1112 at the NACAC (National Association of College Admissions Counselors) Annual Conference, starting Sept. 19th in Toronto, Ontario, Canada.
About CollegeOnTrack 
CollegeOnTrack is a web-based system that enriches the learning experience in middle and high school as it prepares students for college and successful careers. It offers a combination of rich digital portfolios, collaboration support, and task management that helps students build a mindset of success. Administrative modules help educators keep students in school and on track for graduation and college applications.
For more information about this topic, or to schedule an interview, contact Philip Roybal at (408) 782-4244, or phil(at)collegeontrack(dot)com.
CollegeOnTrack is a trademark of ServiceInfinity Inc.