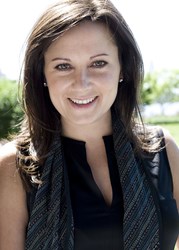 "This book is the complete guide to getting pregnant and improving fertility naturally." -- Julia Pastore, Executive Editor, Demos Health Publishing
New York, NY (PRWEB) September 12, 2013
Aimee Raupp, M.S., L.Ac., Founder of the Aimee Raupp Wellness & Fertility Center and a national women's health advocate, signed a North American rights deal with Demos Health Publishing for her upcoming book, Yes, You Can Get Pregnant: How To Improve Your Fertility Now & Into Your 40's.
Raupp's Yes, You Can Get Pregnant combines her expertise and clinical experience helping scores of women, many of whom had been told their chances of getting pregnant were slim, to go on to get pregnant and have healthy babies. A neuroscientist-turned-acupuncturist, Raupp incorporates Western scientific findings and fundamental practices of 5,000-year-old Traditional Oriental Medicine to elucidate a fresh approach to optimizing women's reproductive health and fertility. The book builds on the successful e-release last summer of a dietary guide and meal plan for women trying to get pregnant.
"The hard truth is that over seven million women and their partners — that's one in eight couples between the ages of 20 and 44 — are dealing with infertility," says Raupp. "I have a very successful practice helping women overcome infertility and other health issues, and I'm writing this book so that women everywhere can benefit from my knowledge and experience."
Julia Pastore, Executive Editor, Demos Health Publishing, adds: "This book is the complete guide to getting pregnant and improving fertility naturally, written by a very busy entrepreneur in her late 30's who understands firsthand how difficult it can be to balance health with the demands of life and career. In a friendly, understanding and inspirational manner, Aimee Raupp's book will give women solid information to improve their fertility, even if they've been told by their medical doctors that their chances of conception are low."
Yes, You Can Get Pregnant will explore age-related factors that lead to infertility, as well as the science behind environmental factors — like the beauty products we put on our skin, the foods we eat and the toxins we are exposed to on a daily basis — and how one's emotional and spiritual attitude have been shown scientifically to affect one's genetics and ability to conceive.
ABOUT AIMEE RAUPP
Aimee Raupp's mission is to educate and inspire women to improve their health, celebrate their beauty, prevent disease and increase their fertility. Her first book, Chill Out & Get Healthy (NAL/Penguin), was a wake-up call to women to take charge of their physical and emotional health. She is also the creator of the Aimee Raupp Beauty line of hand-made, fertility-friendly products, http://www.AimeeRauppBeauty.com.
Raupp has appeared on ABC TV's "The View", Yahoo! Shine, Martha Stewart Radio, FOX Television's "Good Day New York", and in Glamour, Woman's Day, Self and Better Nutrition magazines. She has served as spokesperson for Culturelle, Whole Foods, lululemon athletica and The American Leisure Spa Group, and is a columnist for MommyBites, the national online parenting community, and Acupuncture Today.
Raupp earned a Master's of Science degree in Traditional Oriental Medicine from the Pacific College of Oriental Medicine in San Diego, CA, and a Bachelor's degree in biology from Rutgers University in New Brunswick, NJ. She holds a license in acupuncture and Chinese herbology in the state of New York and is certified by the National Certification Commission for Acupuncture and Oriental Medicine. For more information, visit http://www.AimeeRaupp.com., or engage on Facebook at https://www.facebook.com/pages/Aimee-E-Raupp-MS-LAc/182423686854.
ABOUT THE AIMEE RAUPP WELLNESS & FERTILITY CENTER
In 2012, Aimee Raupp re-branded her private practices in Manhattan, The Hamptons and Nyack, NY, under her namesake Wellness & Fertility Center. At the centers, Raupp and her associates provide comprehensive treatment for a broad range of illnesses and conditions, with an emphasis on women's health, wellness and beauty.
ABOUT DEMOS HEALTH PUBLISHING
Demos Health is dedicated to publishing books that empower people to be active participants in their care and improve the lives of anyone dealing with health-related issues. In 2007, Demos Medical Publishing launched Demos Health, a new imprint for its growing list of health and wellness titles for consumers. This imprint furthers the company's mission to bridge the gap between consumers and the healthcare community, and solidifies Demos' position among leaders in health care publishing.