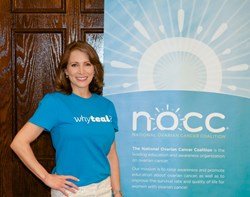 There is no screening test for ovarian cancer and knowledge of the symptoms saves lives.
Dallas, TX (PRWEB) September 04, 2013
Ovarian cancer awareness is on Angelina Jolie's mind. Olympic gymnast Shannon Miller also thinks about it. These famous women have been touched by ovarian cancer – personally or in their families. But, ovarian cancer should be on every woman's mind. All women are at risk and the disease will affect approximately one in every 71 women. Shannon Milller shares, "There is no screening test for ovarian cancer and knowledge of the symptoms saves lives."
The National Ovarian Cancer Coalition (NOCC) is highlighting the signs and symptoms of ovarian cancer during September, which has again been declared by the President as National Ovarian Cancer Awareness Month. Women are urged to think TEAL, or Take Early Action and Live. Throughout the country, NOCC chapters will sponsor walks, turn city lights teal, hold seminars, hand out posters and symptom cards, and simply talk to people about the signs and symptoms of this deadly women's cancer.
This year, approximately 22,240 women will be diagnosed with ovarian cancer, and about 14,030 will die. The survival rate with early diagnosis is about 90%, but the symptoms are vague and there is no diagnostic test. This means the majority of women are diagnosed when the cancer has spread. 70% of all Ovarian cancer is fatal. (ACS Cancer Statistics, 2013)
"Ovarian cancer is more than a woman's disease®," says David Barley, Chief Executive Officer of the National Ovarian Cancer Coalition. "We see families torn apart with the loss of a mother, wife, sister, daughter, grandmother."
Symptoms of ovarian cancer include bloating, pelvic pain, feeling full quickly, and feeling the need to urinate frequently. Signs can also include fatigue, upset stomach, back pain, constipation and menstrual changes. Women who experience symptoms that are unusual for them and persist for a period of over two weeks should see a doctor as soon as possible. If ovarian cancer is suspected, it is recommended to see a gynecologic oncologist before surgery.
"If I hadn't known the signs of ovarian cancer, I would have missed an early diagnosis," said Elizabeth Isham Cory, President of the Board of Directors, National Ovarian Cancer Coalition (NOCC). "I would have ignored the bloating, the leg pain, the general discomfort, and I would probably not be alive today.
"I can have a mammogram, do a self-exam, and feel as if I am doing my part to protect myself against breast cancer," Cory continues. "But there's no test for ovarian cancer. The PAP does not test for it. It is up to each woman and girl to know the signs and symptoms, and see a doctor if things do not feel right."
You can learn more about ovarian cancer at NOCC's awareness website, http://www.whyteal.org. We urge you to spread the Take Early Action & Live message, look at the events in your area, and join us in breaking the silence on ovarian cancer.
ABOUT THE NATIONAL OVARIAN CANCER COALITION
Since its inception in 1995, the National Ovarian Cancer Coalition (NOCC) has been committed to raising awareness of ovarian cancer and providing support, education, and hope for women affected by ovarian cancer, and their families. Establishing itself as an important national advocate for ovarian cancer patients, the NOCC remains steadfast in its mission to raise awareness and promote education about ovarian cancer. The Coalition aims to improve the survival rate and quality of life for ovarian cancer patients and provide resources to family and friends of ovarian cancer survivors.
http://www.ovarian.org | 888-OVARIAN