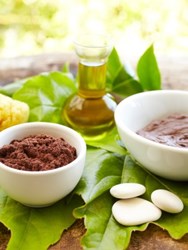 Chicago, Illnois (PRWEB) September 01, 2013
Zion Health, the leading manufacturer of healing clay body care products, announces that Kramer's Health Food store in Chicago, Illinois located on 230 S Wabash St. now carries the innovative line of organic Ancient Clay Soaps, made with high-grade purifying clay. These natural soaps combine healing essential oils with calcium montmorillonite clay (Kanwa Minerals), to create a unique line of cleansing and nourishing face and body bars.
Throughout history, clay medicine has been widely used to treat a variety of internal ailments and skin disorders. Aboriginal medicine men used clay to draw hazardous material from the body, and Native Americans used it to prevent the spread of infection and stimulate healing. With its highly adsorbent nature, Montmorillonite clay is known for its distinct ability to magnetically bind fine-grained particles and remove toxins. Ancient Clay Soaps creatively use Montmorillonite clay to help absorb skin pollutants, detoxify pores and energize the the skin. Ancient Clay Soaps are formulated to help balance skin pH and stimulate skin cell turnover. Calcium Montmorillonite clay is also nutrient-rich and contains more than 60 essential trace minerals that offer many benefits to the skin.
Zion Health's line of Ancient Clay Soaps have the added benefits of a hydrating coconut and palm oil base and natural botanical oils. Lauded for the emollient and antibacterial properties of its lauric and caprylic acids, coconut oil in natural Ancient Clay Soaps are formulated to help restore moisture to dry, sensitive skin. The line also offers a variety of invigorating scents with essential oils such as cucumber flower, tea olive oil and lotus flower. For consumers seeking natural body care products, the combination of botanical oils and healing clay in Zion Health's Ancient Clay Soaps, make the bars an attractive alternative to harsh, drying chemical soaps.
The inspiring natural line of Zion Health organic Ancient Clay Soaps are now available at Kramer's Health Foods store in Chicago Illinois, at http://www.kanwaminerals.com and at health food markets and co-ops throughout the United States and Canada. Zion provides its consumers with pure skin and body care products that are 100% vegan, free of parabens, aluminum and are formulated using certified organic ingredients whenever possible. For more information on Zion Health products, go to: http://www.zionhealth.com.