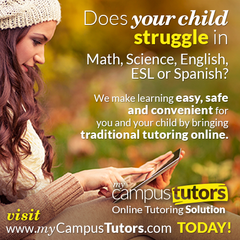 Sometimes our kids need a little extra help in certain subjects, but finding the right tutor and setting up a tutoring schedule can be daunting
Austin, TX (PRWEB) September 17, 2013
Better grades and improved self-esteem are within reach for Central Texas students with the soft launch of myCampusTutors, an innovative online tutoring service. Students 13 and older can now get the help they need, when they need it most through convenient and affordable online tutoring sessions in a variety of subjects including Math, Science, English, ESL and Spanish. With the launch, myCampusTutors is also planning to expand to select cities across the nation in 2014.
"Sometimes our kids need a little extra help in certain subjects, but finding the right tutor and setting up a tutoring schedule can be daunting," said Katy Hackerman, founder of myCampusTutors. "Now, with myCampusTutors, all the hard work is done for you. We provide access to highly-qualified tutors and the latest in online educational technology at your fingertips."
Pilot Test Success
Geared toward students in sixth through 12th grades, myCampusTutors uses proprietary interactive whiteboard, audio and visual technology to help students achieve their educational goals. The six-week pilot proved to be an efficient and effective model for on-line tutoring and student/tutor interaction. During the test, myCampusTutors:

Tutored 176 students at three local school districts, Austin ISD, Belton ISD, and Del Valle ISD.
Contributed 240 hours of free tutoring to the local community.
Employed 70 certified tutors from the University of Texas at Austin.
Deanna Lovesmith, Ed.D, Principal at Belton New Tech High quotes, "myCampusTutors provides another learning opportunity to support students to meet their academic goals by providing online access to a personal academic tutor."
Student Choice
With the launch of myCampusTutors, students from all over Central Texas can now interact with qualified tutors, without geographic limitation, who can assist them with homework questions, test readiness and subject remediation. myCampusTutors brings the best of traditional tutoring, online, and enriches it with modern features and added benefits through innovative technology. A student simply selects a tutor, schedules a session, logs in, and begins tutoring one-on-one in our secure and interactive tutoring room. The student and the tutor build relationships and enjoy the benefits of connecting face to face. All sessions are recorded and archived for test prep and parental review.
Tutor Safety and Skills
myCampusTutors holds its tutors to the highest standards and performs background checks on all applicants. Tutor knowledge is tested through examination and enrollment verification, and they participate in mock tutoring sessions to prepare them for working with students.
Knowing that parents and students expect results, myCampusTutors allows students to retake sessions if they aren't satisfied and provides routine progress reports. Plus, students always have a say because their reviews are the heart of the tutor rating system.
Proven Achievements
"Pure and simple, our program works for students and parents, and we have the survey and test results to back that," said Hackerman. "myCampusTutors makes a difference in students' lives with improved subject confidence, healthier self-esteem and better grades. Our children deserve nothing less."
Students and parents in Central Texas can begin scheduling tutoring sessions with myCampusTutors by visiting myCampusTutors.com or calling 888-558-1115. Announcements regarding myCampusTutors' expansion to select cities across the nation will be available on the website in the coming months. Interested tutors can apply for a position via the website or by calling 888-558-1115.
About myCampusTutors Inc.
Founded in 2012 and based in Austin, Texas, myCampusTutors provides fully interactive, online tutoring for students in sixth through 12th grades throughout Central Texas. myCampusTutors connects students and qualified tutors using a unique whiteboard teaching platform and provides tutors for a variety of subjects including Math, Science, Language Arts and Spanish. Please visit http://www.myCampusTutors.com to learn more.