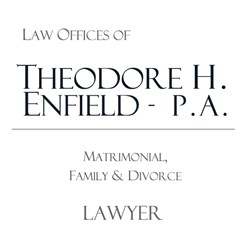 (PRWEB) September 04, 2013
When couples find themselves in the unhappy position of considering divorce, they often picture lengthy sessions in a courtroom, arguing over every aspect of their marriage. They imagine listening to lawyers expose all their personal details and a judge determining the fate of their family. The idea of this can be very distressing and can sometimes put off the decision to divorce, even when the marriage is clearly not working. Thinking about being in a courtroom and having other people, strangers, make major decisions about their lives can be frightening prospect. It can make people feel as if they have lost control, like they will end up having no power over their own destiny. But this doesn't have to be the case. There are ways of ensuring that time spent in court is minimized.
Theodore H. Enfield, a leading divorce lawyer based in Miami with almost 30 years of experience, announces new strategies to help couples avoid spending too much time in court. There are several key decisions that must be made when a couple separate and subsequently divorce. Agreements have to be made regarding the custody of the children, and where the children should reside. A separation of property and finances must be made, and any alimony payments must be agreed upon. With his extensive experience in legal separation, Theodore H. Enfield can guide couples as to which decisions are key. He can show them how they can take control of their own destiny and keep these major decisions out of the courtroom. Of course, such decisions may not be easy, and may take a long time to make, but making the agreements outside the courtroom is still preferable. By using an experienced lawyer to help them, a couple can avoid some of the huge expense and disruption of going to the courtroom. If a separating couple can come to mutually acceptable arrangements regarding the splitting up of assets, alimony payments, and child custody, then they will avoid spending a great deal of time and money on going to court. Theodore H. Enfield is also experienced in premarital agreements and can help a couple negotiate agreements before they enter into a marriage. The majority of people go into a marriage assuming it is for life, but by having an insurance policy, in the form of a prenuptial agreement, they avoid costly legal bills if divorce does ever become a reality. Many people searching for a Miami Dade lawyer will discover Theodore H. Enfield comes up at the top of local listings. This is because of his impeccable reputation and popularity.
About Theodore H. Enfield: Theodore H. Enfield is a popular and well respected attorney in field of Miami family law who has extensive experience in all aspects of family law, including divorce and annulments, alimony, property settlements, and domestic violence cases. For more information call 305-933-9592 or toll free on 800-733-5299, or visit theodoreenfield.com