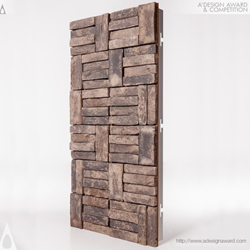 Como, Italy (PRWEB) September 01, 2013
A' Design Award and Competitions are proud to announce that the work Signa by Jo Wouters, Maarten Wauters and Maarten Leën has been announced as a winner of the prestigious Golden A' Design Award in Building Materials, Construction Components, Structures & Systems Design Category highlighted as the winner by the esteemed arbiters of the A' Design Award & Competition within thousands of designs.
Regarding Signa
A self-created brick pattern on weather-resistant Rockpanel® - Signa gives a whole new dimension to brick. It is an innovative facade cladding system that offers the architect many possibilities for exclusive projects, high-rise buildings or other architectural projects. The architect can customize any type of the expressive facades that fully highlight the character of brick. While at the same time opting for a fast result.
To learn more about this design, please visit: http://www.adesignaward.com/design.php?ID=27861
Design Team for Signa
Signa was realized by Jo Wouters, Maarten Wauters and Maarten Leën
The Golden A' Design Award
The Golden A' Design Award is a prestigious award given to top 3% percentile designs that has accomplished an exemplary level of sublimity in design. The designs are judged by a panel of three different jury which is composed of Academic, Professional and Focus Group Members. The designs are evaluated with score normalization to remove any biases and are voted on aspects such as functionality, ergonomics, engineering, presentation, innovation, usability, fun details, technology, and any other specific points that could be considered, each of these points are further weighted for different jury groups.
About A' Design Award and Competitions
A' Design Award and Competitions, aims to highlight the excellent qualifications of best designs, design concepts and design oriented products. A' Design Award and Competitions are organized and awarded annually and internationally in multiple categories to reach a wide, design-oriented audience. Learn more: http://www.whatisadesignaward.com