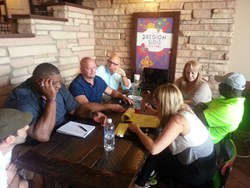 Phoenix, AZ (PRWEB) September 04, 2013
The American Sleep & Breathing Academy (ASBA) has announced "Sleep & Wellness 2014: A Conference for Professionals." The conference will be held in Phoenix, Arizona, on May 1-3, 2014. With its multidisciplinary approach to sleep medicine education, this conference will be the first of its kind. The event will be geared toward physicians, dentists, physician's assistants, nurse practitioners, respiratory therapists and sleep technicians and technologists. Continuing Medical and Dental Education will be awarded at this event.
Sleep experts and physicians will teach about narcolepsy, insomnia, pediatrics, and obstructive sleep apnea. The conference will include a three-hour session dedicated to healthy daytime living to optimize sleep, with an emphasis on community awareness and patient education. Professional athletes and celebrity nutritionists will lead this session in conjunction with top sleep specialists from around the country; afterward, a recording of the session's proceedings will be available to the public.
Syed Nabi, M.D., and Steve Carstensen, D.D.S, both serve as ASBA Education Board Directors. Dr. Nabi said of the event, "It is our intent to deliver essential health information to our professional members and to the public in a straightforward and pleasing way. To the best of my knowledge, there is no other conference in the marketplace that deals with this topic in the same manner we do. I hope that sleep professionals and the public at large will take advantage of the potentially life-changing information available through our Sleep & Wellness program." Dr. Carstensen adds, "Dentists, because they see their patients regularly for preventive care, have a great ability to impact community health through education, identifying people at risk for sleep disordered breathing, and coordinating with the rest of the treatment team to provide optimum health choices. Participating in Sleep & Wellness fits perfectly with dentists' role in spreading the word about these vital health benefits."
In addition to the spectacular line up of topics and speakers at the seminar being one-of-a-kind, the ASBA has partnered with the NFL HOPE Program and Pro Player Health Alliance to conduct what is estimated to be one of the biggest celebrity golf tournaments of the year. With the likes of Charles Barkley, Roy Green, Truck Robinson, Derek Kennard and many more American football heroes showing their support, the American Sleep & Breathing Academy is one of the few that receive so much support from current and former professional athletes.
About the American Sleep & Breathing Academy
The American Sleep & Breathing Academy is an educational institution for sleep disorders. The organization serves the community at large and educates sleep technicians and other medical professionals in the field of sleep disorders. In addition to organizing and hosting wellness events such as the 2014 conference, the Academy publishes a quarterly publication, Sleep & Wellness Magazine, which can be ordered through the company website, http://www.sleepandwellness.net.
About Pro Player Health Alliance
Pro Player Health Alliance (PPHA) is an organization dedicated to helping former NFL players and the public through providing testing and treatment options for those who suffer from sleep apnea. In addition, the PPHA is dedicated to integrating education and raising awareness, in a fun and memorable way. Visit the PPHA website at http://www.proplayersleep.com.