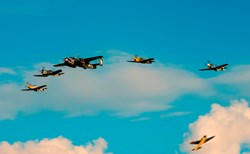 Midland, Texas/Odessa, Texas (PRWEB) September 02, 2013
This year at AIRSHO, Warbirds Invade the Skies of West Texas in ways never seen before. With an amazing air performance from the Texas Flying Legends Museum will have 6of their 11 aircraft fleet in attendance at AIRSHO. Including the rare flying Japanese A6M2 Zero. Texas Flying Legends Museum will participate in both flying and static displays during AIRSHO giving attendees the thrill of up close and personal encounters.
The Texas Flying Legends Museum based in Houston, began with the mission to remind our younger generations of the virtue, strength, pride and valor that each member of our armed forces carried with them during a period of time when our country needed them most. With the rally cry "Honoring the Past, Inspiring the Future," the pilots, crew and aircraft, tell the history of the men and women of the greatest generation.
The A6M2 Model 21 Zero Last Samurai was one of the fiercest aircraft of early World War II. Known as the "Zeke" by American pilots, the Zero filled the skies over the islands of the Pacific. This particular model was recovered from the jungles of Ballale in the Solomon Islands in the late 60s and has since been restored to pristine flyable condition.
Each year AIRSHO offers an impressive display of vintage military aircraft, popular civilian Airshow performers, and modern military demonstrations. AIRSHO offers a variety of spectators a chance to get close to the aircraft and see them perform in ways you simply can't see elsewhere.
Tickets can be purchased online at http://www.airsho.org or locally in Midland-Odessa, Texas at Western National Bank, Domino's Pizza and 7-Eleven stores.
For more information visit http://www.airsho.org or call (432) 563-1000.