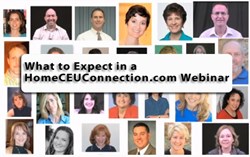 Plano, TX (PRWEB) September 05, 2013
ASHA approved provider of online continuing education for speech-language pathologists HomeCEUConnection.com has opened registration on their schedule of live, interactive webinars. The webinar broadcasts begin on September 5th and run several times each week straight through until the end of 2013. The live, interactive sessions fulfill continuing education requirements for speech-language pathologists in the state of California and across the United States.
The September schedule of webinars features 11 sessions totalling over 25 hours of content that speech-language pathologists can put to use in their work immediately. The sessions cover such popular topics as dysphagia in various medical conditions, neurocognitive concerns, dietary teamwork and Speech-Language Pathology in an educational setting, providing CEs for a wide range of speech and language professionals.
Speech-language pathologists who work closely with patients suffering from Multiple Sclerosis, Amyotropic Lateral Sclerosis or Parkinsons Disease will find valuable information in sessions presented by Denise Dougherty, MA, CCC-SLP. Ms.Dougherty's three courses provide an in-depth exploration of medications and therapy plans for each condition and broadcast the weekend of September 20th-21st.
Veteran continuing education presenter Lisa Milliken, MA, CCC-SLP, returns to the HomeCEUConnection.com studio with two new live courses focusing on the importance of dietary teamwork; "The Experienced SLP's Guide to Complex Dietary Teamwork Facilitation" and "The Power of Partnering on a Nutrition Team!" broadcast live on the weekend of September 13th.
For SLPs interested in exploring neurocognitive subjects, HomeCEUConnection.com is offering three courses on the September schedule; "Acquired Apraxia Treatment: Exploiting Neuroplasticity", "Treatment of NeuroCognitive Disorders in Adolescents/Adults", and "Behavior Management in Adolescents/Adults with Challenging Behaviors after Acquired Brain Injuries". Topics of interest to SLPs working in an educational environment include "Educators and Speech-Language Pathologists Collaborate" and "Incorporating Phonological Awareness Into Speech/Language Intervention".
A full schedule of upcoming live continuing education for SLPs and their approval information can be found on the HomeCEUConnection.com website.
HomeCEUConnection.com webinars are designed to deliver an enhanced learning experience, streaming premiere content directly to the busy therapist's computer or laptop. These live, interactive sessions include demonstrative videos, detailed illustrations and interactive question and answer periods with highly respected educators.
California speech-language pathologists are encouraged to register online well in advance of the broadcast date a space in the live sessions is limited.
About HomeCEUConnection.com
HomeCEUConnection.com is a leader in providing quality online continuing education courses for Speech Language Pathologists, Physical Therapists, Physical Therapist Assistants, Occupational Therapists, Occupational Therapist Assistants, Athletic Trainers, Massage Therapists, and Certified Strength and Conditioning Specialists. We offer convenient, affordable and user-friendly courses that can be found in our growing course catalog.