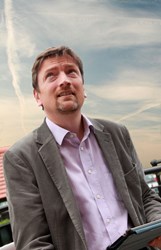 Cardiff (PRWEB UK) 12 September 2013
The Cardiff based agency, who operate from the ITV Studios at Culverhouse Cross, Cardiff, have developed the package after a decade of building, optimising and promoting websites.
Lobster was founded by Russell Davies in 2003 and initially offered purely web design services. Over ten years, Lobster has added numerous marketing services and evolved from offering purely web design to providing clients with a range of integrated services in a bid to grow in to a full service agency.
Russell, who runs the business with wife Helen, said, ''Having operated in the web design industry for a decade, we what know what agencies need. Our packages are tailor made for agencies like us who require more than just your standard software or shared hosting.''
An aspect of the packages is a cloud-based desktop that allows the user to log-in from any device, fixed or mobile, and access all data and files as if they were using their PC. Davies acknowledges that Lobster have spent ten years learning, as well as growing.
''We've come a long way since offering solely web design. We've recognised and reacted to how marketing has grown from a luxury most businesses think they should have to a necessity all businesses know they should have. A mix of different marketing techniques that fit in to one strategy is vital for businesses looking to succeed in the digital age.''
Speaking of the growth of the firm, Russell said, ''We're so lucky that all the staff, whilst having their individual specialities, have a broad understanding of all the services that we offer. It is key to the success of our clients' campaign that the agency understands how all the services fit together.''
Lobster now boasts a complement of marketing services that the firm blend in to an integrated approach. Search Engine Optimisation (SEO), Pay Per Click Advertising (PPC), Social Media and now Telemarketing are all services Lobster offer, along with Web Design.
For more information regarding Lobster's cloud services, visit lobstercloudservices.co.uk.