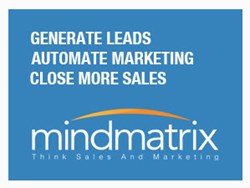 Marketing Advantage, powered by MindMatrix, is the technology industry's first fully integrated, turnkey marketing program designed exclusively for IT services companies
(PRWEB) September 03, 2013
Continuum, a leading provider of managed services solutions, has selected MindMatrix's cutting-edge marketing and sales enablement software as the technology engine behind the Continuum's newly launched partner inbound marketing program. "Marketing Advantage" is the technology industry's first fully integrated, turnkey marketing program designed exclusively for IT services companies. Powered by MindMatrix, the program helps Continuum's partners generate leads, automate marketing and close more deals without having to contribute extra time and resources.
"Finding the time to develop and sustain a quality marketing program is difficult for many of our managed services provider (MSP) partners because they're focused on supporting customers," said Continuum Vice President of Channel Marketing and Community Development Mark Zahar. "Marketing Advantage goes beyond traditional approaches by combining a highly systematic process with professionally created content that keeps the MSP's brand awareness high among targeted prospects. We chose MindMatrix as the automation tool behind the program because it makes sales collateral creation easy on our partners while giving them deeper insight into prospect analytics."
Continuum partner Empower Information Systems has seen impressive results since leveraging the Marketing Advantage program powered by MindMatrix. Using the email-marketing platform with pre-loaded templates that Empower customized with its logo and corporate colors, the company was able to secure a $60,000 deal in less than three months.
"We've never maintained a dedicated marketing staff, but as our company matured, we began to realize that you can only shake so many hands and play so many rounds of golf in a day," said Principal and Chief Security Officer at Empower Information Systems Jason Holbrook. "We needed a plan to engage customers and knew we couldn't count on ourselves to get it executed. That's why we chose Marketing Advantage."
MindMatrix's channel solutions product seeks to satisfy the needs of channel partners and channel managers with specialized tools for sales and marketing professionals. "The channel solutions module allows a company to maintain its brand integrity and keep track of its channel partners' activities and outcomes, while also allowing their partners to generate leads, access their own sales and marketing materials and enable their sales teams with special sales functions that you just don't see in other marketing automation software platforms", said Harbinder Khera, MindMatrix CEO.
With all this positive feedback about its new channel offerings, MindMatrix is looking forward to working with other businesses that have channel needs, both locally and nationwide and it has ramped-up its sales team to deal with the high demand these new offerings are sure to generate.