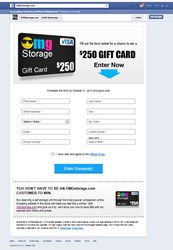 North Miami Beach, FL (PRWEB) September 02, 2013
OMGstorage.com, an online storage unit booking and marketing generator, announced today that it will give a $250, to one Grand Prize Winner in the company's latest "Like Us" Giveaway.
The giveaway is a Facebook-based contest to increase Facebook "likes" and to generate popularity. Recent social media studies have shown that Facebook is a diverse platform for brands to increase their marketing efforts. Participants are to use the link http://goo.gl/mBFzWE and encouraged to share it with their friends. One lucky winner who entered the Facebook giveaway contest and has "Liked" will receive the $250 gift card after verification.
The contest runs from August 26, 2013 through October 31, 2013 but is open to individuals who have already liked the page. The "Like Us" campaign is the first of many contests promoted by OMGstorage.com. Individuals should monitor their social media and website for updates on the latest contests. OMGStorage.com can be found on Facebook, Twitter and Pinterest.
About OMGstorage.com
Established in 2013, OMGstorage.com is a brand of OMG Storage Development, a leading destination in online storage unit booking and marketing showcasing the top self-storage companies in real time. For more information on the company and its philosophy, visit the site at OMGstorage.com.