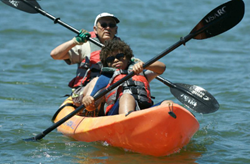 When companies, organizations, and nonprofits join together for a cause, it creates a tangible impact.
Portland, OR (PRWEB) September 04, 2013
In recent years, advocates of social responsibility have criticized certain companies for engaging in corporate social responsibility "in name only," and calling out such practices as "pinkwashing" and "greenwashing" on social media.
Which is why—now more than ever—it's important for brands that make a difference to talk about the real, positive changes they create in communities.
When companies, organizations, and nonprofits join together for a cause, it creates a tangible impact. And social media is one of the most powerful tools available to transform awareness into direct action.
Here's how two companies used Facebook and CafeGive Social's platform to rally their communities around the causes they love.
Turning Likes Into Kayaks
Prometheus Real Estate Group challenged five of its teams in five regions to raise the most funds and awareness for programs that provide access to sport for people with disabilities. The company called it the Promethean OutReach and Community Help (PORCH) program.
Together, the five teams raised over $25,000, and encouraged their communities through friendly competition to Like and donate to the campaign and their partnered nonprofits: Bay Area Outreach and Recreation Program, Oregon Adaptive Sports, U.S. Adaptive Recreation Center, Outdoors For All Foundation, and Disabled Sports Far West USA.
Countless Likes and $1,397.35 later, this campaign helped the United States Adaptive Recreation Center buy a fleet of specialized kayaks for the the youth in their summer water sports program. As a recipient of one of Prometheus' team's awareness and fundraising efforts, the USARC was able to empower children with disabilities to hit the waves and build self-confidence.
The other four recipients of Prometheus's campaign similarly helped turn online engagement into real results. Disabled Sports USA Far West, for example, received $1,097.07 from the campaign, and used the funds as a "powerful catalyst in the development of a positive self-image and a 'can-do' attitude" for adults with disabilities in their sports programs. Read the case study to learn more about Prometheus's campaign.
Feeding and Healing America with Facebook
Did you know that Facebook can help cure hunger and provide comfort and support for wounded veterans? CafeGive Social re-learned the power of social media to move a community to action with the launch of their Community Buzz Application in May 2013.
As part of kickoff for the app launch, CafeGive used their own app to celebrate National Volunteer Week and encouraged fans and community members to use it to share their volunteer and giving stories. The response was tremendous. From around the country, people shared details and photos of the impact they've made with local organizations and nonprofits. At the end of the week, CafeGive chose the six top posts (based on shares and likes), and donated $200 to each highlighted cause.
Fan and follower Christina D.'s story about the Utah Food Bank helped her win $200, which she used to help deliver 6,793 weekend "food packs" to children in May, making sure they don't go hungry outside of school.
From California, Christine R. shared her volunteerism story and photos from Quilts Of Valor Foundation, another $200 winner. QOV turned that donation into material and resource guides used to create handmade quilts for US war veterans. Last week alone, QOV awarded 323 quilts to veterans.
Pay It Forward
With a 30% jump in donation-related searches from August to September, consumers are already planning their end-of-year giving. Which is why it's essential for businesses to start creating and launching their campaigns now to make the most of their CSR and cause-marketing initiatives. CafeGive believes in the power of social media to help change the world. Read more stories to gain ideas and insight into how companies are using the platform to connect to consumers, drive online conversation, and have a meaningful impact on the communities they serve.
About CafeGive Social
CafeGive is the only company that combines social media marketing with meaningful, action-oriented cause marketing applications. Using our product, CafeGive Social, we have helped companies, agencies and nonprofits of all sizes connect with customers to build brand, enhance reputation, raise awareness and effect social change. Headquartered in Portland, Oregon, CafeGive is a privately held company.