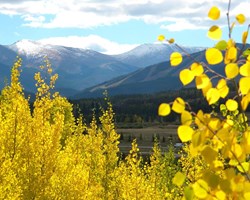 When the seasons start to roll from summer to autumn, Mother Nature changes her wardrobe from fresh green to the gorgeous colors of autumn
Granby, CO (PRWEB) September 03, 2013
When the seasons start to roll from summer to autumn, Mother Nature changes her wardrobe from fresh green to the gorgeous colors of autumn. Fall is prime leaf-peeking season and Grand County has many opportunities to catch the changing colors, whether you're traveling by car or by foot.
Best Grand County Scenic Routes
Trail Ridge Road
In about 1880, on the west side of Trail Ridge Road a wagon road was constructed along the Kawuneeche Valley from the town of Grand Lake to the mining camps of Lulu City and Gaskil. Now a perfect spot to mine for gold of the leafy variety, traveling on Trail Ridge Road affords views of the Kawaneeche Valley aflame with aspen trees changing into their brilliant fall colors. It's also elk mating season, so listen for the bugling and keep an eye out for these majestic creatures.
Hwy 40 from Granby to Kremmling
Follow this stretch of Highway 40 for less than 30 miles along the Colorado River for some of the most glorious fall colors juxtaposed against the craggy mountains. Pack a picnic and pull over at any number of scenic spots for a leisurely lunch amongst the spectacular aspen groves.
Second Creek with an overnight at Broom Hut
To take in the fall colors by foot, consider a hike up to Second Creek with an overnight stay at Broome Hut, Colorado's newest backcountry hut. The hike begins at the trailhead at mile marker 240 on US Highway 40 on Berthoud Pass. Climb about 765 feet to Broome Hut, which was completed in 2012 and is one of the finest high-altitude skiing and hiking locales in Colorado. By staying the night (reservations are required), you'll get to experience the fall foliage at all different times of day: sunset, sunrise and all of the times inbetween.
Corona Pass
Once a heavily traveled wagon road to Boulder, Corona Pass (also known as Rollins Pass) affords views of Winter Park Resort and Fraser Valley. With an elevation of 11,660 feet, Corona Pass is located on the Continental Divide and sits about five miles above the Winter Park Ski Area on the boundary of Boulder and Grand Counties. Take care when traveling over the pass—it's an unpaved road and impassable by car in the winter. However, the expansive views of the changing leaves found on Corona Pass are well worth the effort traversing this area.
Colorado Scenic Byway from Grand Lake through Kremmling
The name says it all: the 80-mile (one-way) Colorado River Headwaters Scenic & Historic Byway between Grand Lake and State Bridge is worth the trip. Leading you along the Colorado River past ranches and reservoirs, hot springs and deep canyons, this route might be one of the most scenic in Colorado—and that's saying a lot in this particular state. Follow U.S. 34 west out of Grand Lake toward Granby, then turn onto U.S. 40 to Kremmling. Stop in Kremmling for a snack and, if the stunning scenery has not overwhelmed you, from Kremmling you can take a beautiful shortcut back to Grand Lake.
These are just a few of the scenic routes perfect for fall leaf peeping in Grand County. For more information or to plan a visit, visit http://www.visitgrandcounty.com.
About Grand County, Colo.
Located 67 miles west of Denver, Grand County is home to wide-open spaces, breathtaking mountain scenery and authentic old-west towns. Outdoor recreational activities include golf, boating, fishing, biking, hiking, fishing, hunting, horseback riding, skiing, cross country skiing, snowmobiling, ice fishing, sleigh rides and tubing. The area features more than 600 miles of mapped and marked trails, one national park, two national forests, two wilderness areas, two national scenic byways, two major ski resorts, five world-class dude ranches and four mountain golf courses. Grand County's extensive water network includes Colorado's largest natural lake, 1,000 miles of streams, 1,000 acres of high-mountain lakes and 11,000 acres of reservoirs.