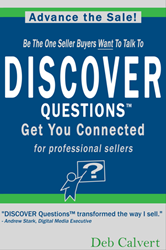 "...The book is a great guide to all sales professionals and should be a desktop reference to anyone who seeks to excel in professional sales." Dave Brock, CEO, Partners In EXCELLENCE.
San Jose, CA (PRWEB) September 08, 2013
Sales industry thought leaders are reading and recommending "DISCOVER Questions™ Get You Connected". The concepts and data collected from over 10,000 actual sales calls show the reader how they can be oneseller buyers want to talk to. With over 20 years of field research, author and sales coach Deb Calvert has identified eight question types to be used on each and every sales call.
Dr. Tony Alessandra, author of "The Platinum Rule for Sales Mastery" and "People Smart in Business: Using the Disc Behavioral Styles Model to Turn Every Business Encounter Into a Mutual Win," says, "One of my favorite sales quotes is… prescription before diagnosis is malpractice. DISCOVER Questions™ Get You Connected will help you understand how to diagnose customer needs by using questions to improve your communication, what types of questions to use and when to use them, and the strategies and techniques of artful questioning. Being able to ask the right question at the right time is THE critical piece of the sales process. Questions are the heart of successful sales communication."
Pre-Order your copy today, and receive a cover price discount and other valuable support materials. After September 15, "DISCOVER Questions™ Get You Connected" will be available on Amazon.com.