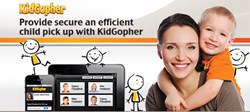 Knowing that each child is getting to their respective guardian is important to us.
- Michael Whitman
Greenville/Spartanburg, SC (PRWEB) September 10, 2013
KidGopher, a breakthrough child pickup security system, has now made protecting children, during school pick-up, more affordable. With KidGopher's new pricing model, schools will have access to the entire KidGopher Software for a rate based on the number of students that is enrolled in the school and how many months out of the year that the school is planning on implementing KidGopher.
Included in the price is the KidGopher software, one RFID scanner, one USB RFID scanner, one player and one license for the award winning Hypersign software per school, as well as one RFID card per student. Avionex is also including six hours of assistance for set up and to make the transition to the new system hopefully hassle free.
Michael Whitman, Vice President of Avionex, says, "We at Avionex hope that this new pricing model will make the KidGopher software more affordable to the K-12 education system. Most of us have children and know how important it is to keep them secure in a potentially chaotic school pick-up line. Knowing that each child is getting to their respective guardians is important to us."
The way KidGopher works is simple. Each guardian will be assigned a unique KidGopher profile and either a Gopher card or a PIN number. The KidGopher profiles contain vital information such as contact information, photo identification of the guardian and which children are assigned to their profile.
When it comes time for school pick-up, teachers will either ask for the guardian's Gopher card or their PIN number and will choose which child is to be picked up based on the information on the guardian's Gopher profile. Once the children have been selected their names will be transmitted to the dismissal staging display. This enables teachers to be able to organize the children in order of pick up. When the child is released to go to the pick-up line another teacher will confirm the identity of the child and mark them as picked up, in the system, before the child can get into a vehicle. This process creates a record of the pick-up time and who has picked up the child.
AVIONEX Software is an award winning software product development company focusing on building product that improves the lives of people. The KidGopher product is known for it's ability to greatly improve security and efficiency making it the best child pickup system for K12 Education. KidGopher, and other AVIONEX software products are available to purchase from AV Integrators throughout the US and Canada.