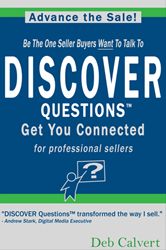 'This powerful, practical book, based on proven principles for sales success, shows you how to build high levels of trust and credibility from the first moment.'
-Brian Tracy, author, "Unlimited Sales Success"
San Jose, CA (PRWEB) September 13, 2013
Sales training manuals abound, but what separates this book from the pack is apparent once the reader delves into the concepts outlined by author, sales coach and researcher Deb Calvert. Learning to understand and employ the eight question types Calvert has identified will make the sales professional stand out in buyer eyes. Many sales field authors, trainers and speakers are reading and recommended this groundbreaking book.
"Questions are the answer to real success in the field of selling. Planning and practicing the questions you'll ask buyers will make all the difference in the results you get. The real key to success is in asking the questions that will get you the answers you need in determining if and how to serve each client. Discover DISCOVER questions and you'll be amazed at how much more fun selling can be," says Tom Hopkins, author of "How to Master the Art of Selling" and "Selling in Tough Times."
Pre-orders include a discounted cover price and incentives worth over $70, and are available through September 14. Following that time, books can be ordered via Amazon.com or the company store.