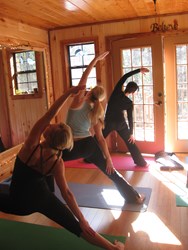 Retreat in the Pines offers affordable yoga retreats for all levels.
Mineola, Texas (PRWEB) September 03, 2013
Retreat in the Pines recently announced their Fall 2013 Yoga Retreat Schedule. Prospective guests can choose from a variety of budget friendly retreats for all levels of yoga students. Yoga retreat offerings include Strength & Healing, Detox, Body Harmony, Deepen Your Practice and more.
Yoga Retreat Leaders share their unique specialties with guests of Retreat in the Pines, encouraging guests to explore yoga and meditation while immersed in the healing power of nature. Retreats are accessible to all levels of students. The all-inclusive price includes shared accommodations, meals, yoga, meditation, workshops, wine tasting and more. Each yoga retreat includes free time for a richer retreat experience. Massages are available for an additional charge.
"I am thrilled at the extensive line up of talented yoga instructors we have booked for the fall. With so many different options, I'm confident we have a yoga retreat for everyone, from busy moms who need a getaway to advanced students who would like to explore challenging poses," comments Theresa Polley, Retreat in the Pines founder.
Known for healthy and delicious meals, Retreat in the Pines staff cook each meal from scratch using fresh, organic and locally sourced ingredients. The accommodations are cozy and comfortable, with plenty of room inside and out for relaxing and enjoying nature.
Conveniently located in East Texas, Retreat in the Pines is a scenic two-hour drive from DFW Airport. While the location feels remote, down a quiet country road on 30 acres of peaceful pine trees, it is convenient to area attractions and restaurants. There are art studios, wineries, day spas, antique stores, as well as lakes, parks and other natural recreation areas all located within 20 minutes. The neighboring towns often host seasonal festivals focusing on food, art, music and more. Yoga retreat guests have the option to stay on the property and enjoy the peace and quiet or head into town for more activities.
Retreat in the Pines is currently taking individual and group retreat reservations for the fall. In addition, 2014 dates are available for instructors interested in hosting a yoga retreat.
Details on upcoming yoga retreats, including dates, themes and costs.
Guests interested in learning more details or booking a retreat can visit http://www.retreatinthepines.com or call 469-867-0766.
About Retreat in the Pines
Retreat in the Pines, a nationally recognized retreat destination, has been hosting guests since 2004. Yoga students and instructors alike travel to the beautiful piney woods of East Texas to relax, renew and restore. Retreats are offered for all levels, from those who have never practiced before to advanced students and instructors.