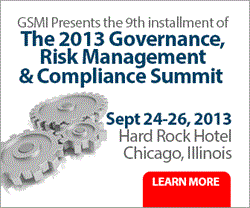 "Business is dynamic - changing minute-by-minute and second by second, it is also distributed across an intricate web of business relationships." Michael Rasmussen, GRC 20/20 Research, LLC
Chicago, IL (PRWEB) September 03, 2013
GSMI is excited to announce Michael Rasmussen, J.D., OCEG Fellow, CCEP, GRCP, CISSP, Chief GRC Pundit, GRC 20/20 Research, LLC will be speaking at the GRC Summit Chicago on the topic of "Managing GRC in a Dynamic Business Environment: Keeping Abreast of Changes to Your Business, Risk, and Regulatory Environments," on September 26th.
Michael Rasmussen is the authority in understanding Governance, Risk, and Compliance (GRC). He is a sought-after keynote speaker, author, and collaborator on GRC issues around the world and is noted for being the first analyst to define and model the GRC market for technology and professional services. With more than 15 years of experience, Michael's objective is to assist organizations in defining GRC processes that are sustainable, consistent, efficient, and transparent.
Considered one of the foremost authorities in understanding the broad view and impact of risk and compliance standards, frameworks, regulations and legislation, Michael has worked closely with large organizations and government agencies. His involvement in government initiatives has included leading roles in defining public policy and legislation on risk and compliance with contributions to US Congressional reports, boards and committees.
On the topic of change management in a GRC context, Rasmussen states, "Change is all around us and impacts every aspect of Governance, Risk Management, and Compliance. To effectively address GRC requires that the organization be able to address a dynamic, shifting, and complex business environment. GRC professionals need to not only understand regulatory change, risk change, and business change but how these three areas of change intersect with each other. It is not enough to just keep up with changing regulations as a change to your business may take you from a state of compliance to non-compliance.".
In his GRC Summit session, he will discuss how companies can be proactive in monitoring change that impacts the business and keeping GRC processes, policies, and controls current.
This year, GRC Chicago will offer 4 new session tracks: (1) Corporate Governance; (2) IT/Data Security, (3) Audit Management; and (4) Enterprise Risk Management (ERM). For more information and to register today, please visit http://www.thegrcsummit.com.
Twitter: @gsmionline
Facebook: Facebook.com/gsmiweb
Event Hashtag: #GRCSummit
Join the conversation with our LinkedIn Group:
http://www.linkedin.com/groups?gid=4242188&trk=myg_ugrp_ovr
GSMI is a leader in the industry of executive education, creating conferences, summits, workshops and training sessions that combine rich learning environments with the opportunity to network with today's most relevant thought leaders, speakers and practitioners. GSMI's annual events have reached 80% of the Fortune 500 companies, in over 30 countries, covering topics that today's leaders find most challenging and inspiring.