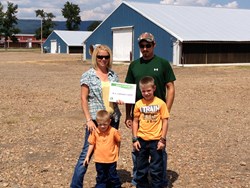 Da (PRWEB) September 02, 2013
The R & J Spears Farm, owned by Robin and James Spears, has been producing birds for Wayne Farms since March 29, 2011. They operate a four house broiler farm with 118,800 sq ft. The R & J Spears Farm includes a commercial hay business and a pine plantation, in cooperation with the local Natural Resources Conservation Service.
About Wayne Farms LLC
Wayne Farms LLC is the sixth-largest vertically integrated poultry producer in the U.S. with annual sales exceeding $1.9 billion. A subsidiary of Continental Grain Company, Wayne Farms owns and operates 11 fresh and further-processed facilities throughout the Southeast, produces more than 2.5 billion pounds of poultry products each year, and employs more than 9,800 individuals.