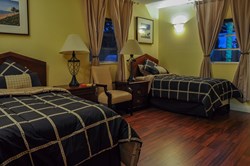 Without proper care and treatment from a certified detox facility, alcohol abuse can evolve into a serious dependency. Receive the care you need and get on the path to recovery. - Robert Niznik, Harbor Village CEO
Miami, Florida (PRWEB) September 04, 2013
As reported by Headlines & Global News on 7/19 in their news article titled, Smoking Increases Vulnerability To Alcohol Addiction, researchers have found that smoking can increase the likelihood of a person becoming an alcoholic. Researchers from the Baylor College of Medicine conducted the study using rats and discovered that just a small amount of nicotine can increase the likelihood a person will become an alcoholic. It was found that nicotine is powerful enough to change how the brain perceives alcohol as a reward it craves.
Those who feel that they are experiencing a problem with alcohol abuse should seek qualified medical help by contacting a certified detox center such as Harbor Village. At Harbor Village, an alcoholism treatment center located in beautiful Miami, Florida, clients can check in anonymously and receive private alcohol rehab tailored specifically to their needs. Each client enjoys a very comfortable stay in a state-of-the-art environment. Accommodations include an attractively furnished suite, 30,000 square foot outdoor lounge area, spa, salon, massage and acupuncture services, Netflix and Internet access, healthy, gourmet dining and personalized care from the attentive staff.
According to the news story, Smoking Increases Vulnerability To Alcohol Addiction, senior study author Dr. John Dani of the Baylor College of Medicine commented by saying, "Our findings indicate the mechanisms by which nicotine influences the neural systems associated with alcohol abuse, providing a foundation for conceptualizing strategies aimed at diminishing the link between smoking and later alcohol abuse."
"Young people typically experiment with nicotine from tobacco in their teens, and that exposure possibly contributes to a greater vulnerability to alcohol abuse later in life. Therefore, greater vigilance is called for to prevent the initial exposure to nicotine and to follow those at risk," says Dr. Dani. "In addition, our work suggests that stress hormones are candidate targets for prevention or treatment therapies."
"Without proper care and treatment from a certified detox facility, alcohol abuse can evolve into a serious dependency. Receive the care you need and get on the path to recovery," said Robert Niznik, Harbor Village CEO.
For more information, visit: http://harborvillageflorida.com/ or call the 24/7 hotline at 1-855-338-6900.
Media Contact: 
Robert Niznik 
Harbor Village 
Miami, FL 
305-999-5728 
robert(at)harborvillageflorida(dot)com