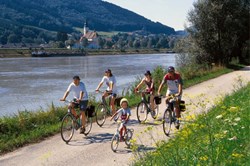 We felt like pioneers, explorers, students (of maps and German phrases!), and we formed a stronger bond with another culture and within our own family.
Chattanooga, Tenn. (PRWEB) September 04, 2013
Bicycle tours offer families a unique combination of cultural exploration and kid-friendly adventure, making them the perfect active vacation for parents and children. Experiencing a destination's geography and terrain, views and smells, and history and people makes for lifelong family memories. BikeToursDirect now offers more than 80 family-friendly bicycle tours to connect parents with plenty of options to find the perfect adventure for their family. This recently expanded selection includes tours in 22 countries throughout Europe, Asia, and Central America.
Bike tours particularly suited for families typically have a combination of several features (such as dedicated bike paths, short daily distances, and kid-friendly hotels) that make them appropriate for traveling with children of varying ages.
Tours on dedicated bicycle paths are a popular concept in Europe because they offer a carefree experience on vehicle-free routes, allowing kids a safe way to explore at their pace while parents can relax and enjoy the ride. And, if little legs get too tired to pedal, family-friendly tours in Europe make the most of extensive public transportation options by building in rest breaks with ferry rides or trains or by offering a back-up plan for getting to the next hotel.
Daily cycling routes are designed with distances manageable for most children to ride on their own while offering plenty of time for off-bike play and sightseeing. Offering families the flexibility to set their own pace, self-guided bike tours still provide support like luggage transfers, route maps and cue sheets, and a service hotline. These self-guided tours are also appealing to families for their affordable prices, which start at $550 per person for one week and often have discounts for children sharing rooms with parents. For parents who want more structure and support as well as the added perspective and insight they would get from a local guide, guided bike tours are a good option.
Hotels are often specially selected for these tours for their appeal to families, perhaps with a swimming pool or location near kid-friendly activities. For those who would prefer to stay in a single hotel throughout the tour and only unpack once, "home-base tours" with daily loop rides are a good choice.
BikeToursDirect's staff consults with parents to identify which of their more than 80 family-friendly tours is the right fit for their needs. "We help parents match their budget, kids' ages and cycling ability levels, and dream vacation destination with a tour with the right riding distances, hotels, activities, and availability of equipment like trailers or kids' bikes," says Heather Lee, Senior Tour Specialist at BikeToursDirect. "There are a lot of variables to consider when traveling with children, so we're always excited to match families with their perfect adventure – and then get their reports and pictures after the tour saying it was the 'trip of a lifetime' for the whole family."
A classic European route ideal for families is the Danube Family Tour through Germany and Austria. Following the Danube Bike Path, it keeps travelers safely away from motorized traffic, and has shorter daily riding distances than the usual program on this route, due in part to scheduled boat rides on many days. Available equipment for children includes kids' bikes, tag-alongs, trailers, and tandems. Land cost starts at €630 for adults and €315 for children, with children under 6 (sharing parents' room) riding for free.
BikeToursDirect client Kathryn Brown traveled with her husband and children, ages 5 and 8, on the Danube Family Tour in 2012. "The best part of our trip (besides feeling so proud of my children's efforts) was freely exploring each day on our own," she says. "Even though BikeToursDirect had our back, we were free agents from sunup to sundown. We felt like pioneers, explorers, students (of maps and German phrases!), and we formed a stronger bond with another culture and within our own family."
Another popular tour is the Connemara Family Cycling program in Ireland. A truly independent adventure designed for families with children over age 8, this self-guided tour explores the untouched reaches of coastal Ireland at travelers' own pace and leisure. Families can choose their level of adventure with accommodations too, with package options for hotels, traditional bed and breakfasts, or hostels. Land cost starts at €565 for adults and €395 for children under 16.
BikeToursDirect's more than 80 family-friendly bike tours are in 22 countries, including Ireland, Austria, Germany, Holland, Portugal, Cambodia, Vietnam, and more. View them all at http://www.biketoursdirect.com/search/results/&tag=5.