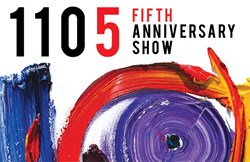 "I call myself a Reflectionist artist because I believe that the universe mirrors each of us in a unique way. My goal as an artist is to interpret that phenomenon." - JD Miller
Dallas, TX (PRWEB) September 04, 2013
This September officially marks the 5th year anniversary of Samuel Lynne Galleries. In celebration, Samuel Lynne Galleries will be hosting a group exhibition featuring the latest 3D Oil Paintings by Reflectionist artists JD Miller, Philip J. Romano, and Lea Fisher, the foundation artists of Samuel Lynne Galleries.
Established in 2008 on the then industrial Dragon Street in the Dallas Design District, Samuel Lynne Galleries has come to be known as the premier gallery for contemporary art in Dallas. Additionally, the Reflectionist School has continued to thrive through the foundation artists of the gallery.
The Reflectionist School is based on a system of artistic thought that abstractly emphasizes the mirroring of energy and human life in the universe. This burgeoning school of artistic thought attempts to express and physically manifest these positive — and otherwise abstract or intangible — forces, which artist JD Miller (the founder of the Reflectionist School) refers to as the "three dimensional envelope of life" through his 3D Oil paintings. Miller's production of organic forms and natural tendency toward the capturing of light is the hallmark of this sculptural oil technique.
Just as Impressionism developed around a core group of artists in late 19th century Paris, the Reflectionist School is beginning to foster a following around a core group of artists in Dallas. Characterized by thin, visible, and textured strokes, Impressionism manifested the cultural changes in Paris, as the city began to emerge as the epicenter for art, music, and ethos for Parisians like Monet, Renoir, and Cezanne as well as expats like Morisot. Similarly, Dallas is growing rapidly as a cultural Mecca in the heartland of the U.S., transforming rapidly in terms of demographics, economics, and investment in the arts. The Reflectionist School, in turn, is growing throughout the country and the world around key groups of artists mentored by JD Miller, the school's founder. This is characterized by the use of bold colors and the thick, sculptural application of oil paint (3D Oil), directly mirroring the times and place JD Miller and the other Reflectionists live.
For Samuel Lynne Galleries' fifth anniversary exhibition, experience the unique perspectives of the artists that helped to establish Samuel Lynne Galleries in a way you have never seen before. JD Miller, Philip J. Romano, and Lea Fisher, while working in the traditional oil on canvas medium, each elevate beyond the traditional through the technique of an impasto application. Each artist achieves an individual affect and signature style while maintaining the use of the sculptural application of oil paint.
Artists JD Miller, Lea Fisher, and Philip J. Romano will be available for interviews the night of the exhibition.