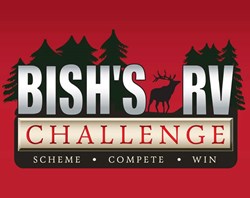 Idaho Falls, ID (PRWEB) September 03, 2013
The fourth annual Bish's RV Super Center Challenge starts on Monday, September 9 and goes through Friday, September 13, 2013. 12 Contestants will compete against each other to see who can outwit, outlast, and out play for their chance to win the grand prize, a new 2013 Jayco Jay Flight Swift 26 foot travel trailer with bunks, worth $20,000.00. This Challenge is sponsored by Riverbend Communications (Z-103, K-Bear, KLCE and The Hawk), Sportsman's Warehouse, Teton Graphics, and Bish's RV Super Center.
Facebook Fans got involved with the Challenge by choosing the final 12 contestants. The Top Applicants did a 30-second or less recorded interview, stating why they should be on the Challenge. The videos were uploaded to the Bish's RV Facebook page where Fans then voted for the final 12 Bish's RV contestants. "We have done this the past two years and the Fans seem to really like choosing who gets to compete," said Megan Walker, Marketing Director for Bish's RV Super Center. "It's exciting to see the community get involve and be so passionate about these contestants."
The 12 contestants will live five grueling days on the Bish's RV lot. The Challengers are only allowed to bring a sleeping bag, a jacket, the clothes on-their-backs, and one personal item (no electronics) with them to the competition.
Each night, these contestants will be put through Nightly Challenges followed by Nightly Elimination Voting Rounds. The Challenges have ranged from mud pits to goat milking to breaking objects out of ice to doing balancing acts. The winner from the Nightly Challenge will be granted immunity and is safe from elimination. The other contestants will be up for elimination during the Nightly Voting Rounds and two contestants will be voted off each night of the competition. On the last day, there will be 2 remaining contestants. The last five eliminated contestants will come back to be the jury, voting for the contestant they want to win the new Jayco trailer. The final elimination round will take place on Friday, September 13, 2013 at 7 p.m.
The community is invited to come watch the competitions each night at 6 p.m. with free barbeque starting at 5:30 p.m. "Each year the nightly challenges get better and better," said Walker. "The crowd is always excited to see what the Challengers have to do each night. It's also great to see the crowds' reactions as we explain the challenges. I think that is what makes this event so successful, great crowds and surprising Frv challangchallenges!"
For more information about the Bish's RV Challenge, visit our Facebook page or our website.