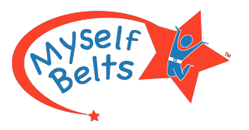 St. Louis, MO (PRWEB) September 05, 2013
Parents can submit back to school photos of their kids as a means of entering the contest. The contest will have two winners. There will be a random winner announced on September 10th and then a voting period to select the creative winner at the end of September. Participants can get their friends and family to vote for the best photo. Prizes include gift certificates to Makaboo and Myself Belts as well as a Kindle for the winner of the Creativity vote.
Myself Belts, a one-handed easy to use belt for toddlers, preschoolers, and school age children, is very busy during the back to school season. Owner, Talia Goldfarb stated that "back to school sales is our busiest time of year as parents outfit their children with back to school clothes and find that much needed easy to use belt for school uniforms." Makaboo also sells backpacks, lunchboxes and other school essentials. The pairing of these two businesses as sponsors for this contest makes sense as they market to the same customers.
The contest is rapidly being spread amidst social media channels. Facebook, Twitter and many parenting blogs are spreading the word about this fun contest with great prizes. Photo submissions have started to come in with cute pictures of kids and sibling groups on the first day of school. Some kids in the pictures are even wearing a Myself Belt, which Talia said is fun to see.
Entrepreneurs are always thinking about how to build brand awareness and contests are a great way to engage people through creative channels. Myself Belts is using the UPickem platform created by Second Street Media. This platform makes it easy for businesses to create unique contests and engage customers. Building excitement while making the experience fun for those involved is an important part of marketing. Partnering with other small businesses to increase exposure is a focus for Myself Belts in 2013.
About Myself Belts
Two sisters, Talia Bahr Goldfarb, a mom and social worker, and Danielle Bahr Eason, a mom and retail industry veteran, joined forces to invent Myself BeltsTM, the belt kids can fasten themselves. For more information and to view the product line, please visit the website at http://www.myselfbelts.com or call 314.863.2358.