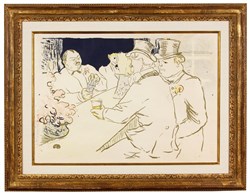 "I'm excited to begin my tenure with this incredibly large, high-quality 20th Century sale. The objects, furniture and fine art in this sale invite collectors across many different genres and media." Kate Wilkins, Modern Appraiser
Beverly, MA (PRWEB) September 04, 2013
Kaminski Auctions of Beverly, Massachusetts will hold an auction devoted to fine art, decorative art, and furniture from the 20th Century on Sunday, September 22, 2013. Seasoned mid-century collectors, as well as new enthusiasts are sure to find an array of top-quality objects, furniture and fine art.
The most exciting lot of the sale is perhaps "The Irish American Bar"/"The Chap Book", by Henri de Toulouse-Lautrec, a rare Artist's Proof created in promotion of the 1890s magazine, "The Chap Book" (Lot 8249, estimate $50,000 to $60,000). Commissioned by Stone & Kimball from La Plume, this poster was never used in the United States. Possibly intended for promotional use in France, the example of the print at Kaminski is a rare proof prior to the addition of typeface.
Additionally, the fine art collector will find a still-life pencil drawing attributed to Giorgio Morandi, and a gorgeous numbered Artist's Proof, "Pullman Car," by Donald Vogel dated 1940 (Lot 8018, estimate $700 to $1,000). "One Man's Floor is Another Man's Ceiling," a color serigraph, die cut in relief, by James Rizzi (Lot 8012, estimate $1,000 to $1,500) will also feature in the sale, another edition of which can be often seen on the hit TV series "Seinfeld" in Jerry's apartment.
Architecture and interior design buffs will appreciate a beautifully executed Greta Magnusson-Grossman Birch and Walnut bar (Lot 8107, estimate $15,000 to $25,000). This stunning, yet streamlined piece was designed by Magnusson-Grossman and installed in the prolific designer's California home through the middle of the 20th Century.
Accompanying the bar, bidders will also be delighted to see a beautiful Has Wegner "Mama Bear" chair (Lot 8108, estimate $8,000 to $10,000). The strikingly sculptural, rare teak chair is finished in black wool with walnut hand rests.  
The decorative arts collector will surely want to peruse a glazed pottery tile attributed to Grueby, circa 1915, as well as a lovely Rookwood vase of diminutive size, executed by Carl Schmidt, covered in a vellum glaze and depicting a Venice harbor, circa 1920 (Lot 8209 estimate $800 to $1,200).
A Georg Jensen tea set in the "Blossom" pattern will surely garner much bidder attention (Lot 8109, estimate $14,000 to $20,000). The "Blossom" pattern was among Jensen's earlier works and highlights his skill as both sculptor and silversmith in the seamless combination of silver and ivory. The set includes two tea pots, one covered sugar, one creamer, and one oval handled tray. The comes to Kaminski from a private collector who purchased the set directly from Jensen in Denmark.
The outstanding selection of Murano vanity items previously collected by the late Robert Loy (also known as Robert Puterbaugh) will feature prominently throughout the sale. Highlights from the collection include Sommerso jewel tone perfumes attributed to Seguso Verti d'Arte with DeVilbiss hardware, as well as a traditional Muranese vanity set with rose toppers, produced circa 1890. This same set was featured on the cover of Perfume Bottle Quarterly Winter 2012-2013, which featured an article on the Loy collection. Also of particular interest is a vanity set by Alfredo Barbini, mentioned in a PBQ article on the Loy collection as "one of Murano's leading artists of the 20th century." Crafted with the Applicazioni a Caldo technique, the delicately ridged toppers of this set appear as delicately spiked as aloe leaves. From the maker Fratello Toso, comes a highly colorful "patchwork" bottle from the 1950s with a flame twist stopper in clear glass.
In addition to this exceptional collection, glass enthusiasts will also find a supreme Loetz Octopus Federzeichnung glass vase (Lot 8001, estimate $1,200 to $1,500). The sale will also present two works by Lino Tagliapietra for Murano comprised of internally decorated glass discs set on enameled iron stands entitled "Saturno Sculpture" (Lots 8114 and 8115, estimated at $2,000 to $3,000 each).
Preview for the sale will take place on Wednesday, September 18, from 10:00am to 5:00pm, Thursday, September 19, from 10:00am to 5:00pm, Friday, September 20th, from 10:00am to 8:00pm, Saturday from 8:00am to 5:00pm, and on the day of sale, Sunday, September 22, beginning at 8:00am.
KAMINSKI
Kaminski Auctions, located on the North Shore of Boston, has been serving the New England antiques market for over 25 years as a full service auction house and appraisal service for fine art, antiques and estates.
With two locations in Beverly, Massachusetts, including a new state of the art auction gallery located at 117 Elliott Street, and a historic 1850's barn and office facility at 564 Cabot Street, Kaminski Auctions hosts 25 auctions a year.
In today's highly competitive market of fine art and antiques, Kaminski Auctions provides its customers with bicoastal services and marketing with west coast offices in Beverly Hills and San Diego, California.
Kaminski Auctions offers specialty departments in Asian Art and Antiques, Silver, Glass and Lamps, Couture and Vintage Clothing, Photography and Modern Design . We have highly trained and knowledgable appraisers on staff that will help you determine the true value of your antiques, or entire collections. Free Appraisal days are offered every Tuesday from 10:00am-4:30pm at our 564 Cabot Street location in Beverly, Massachusetts & by appointment at our 5171 Santa Fe Street location in San Diego, California. We welcome emailed photos of your items!